Titans ask fans to donate school supplies to benefit the PENCIL Foundation*on Sept. 18th as they open at home vs. Ravens at LP Field *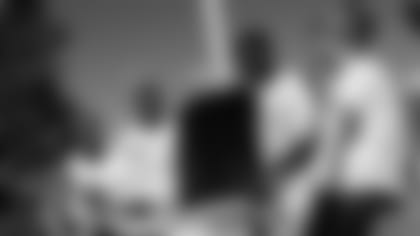 The LP PENCIL Box School Supply Drive takes place Sunday at LP Field, once again benefiting Metro Nashville students.
NASHVILLE, Tenn. -  The Tennessee Titans will once again partner with LP on Sunday, Sept. 18th for the LP PENCIL Box School Supply Drive benefiting Metro Nashville students.   
LP PENCIL Box, a collaborative venture between PENCIL Foundation and LP Building Products, offers Metro teachers the opportunity to shop free twice per year for classroom school supplies, benefiting Nashville's most needy school children.  Since its inception in 2005, over $2.5 million worth of school supplies has been distributed to students whose families cannot afford to purchase them.
"The Titans supply drive is the biggest we have during the year so we look forward to this each year and are grateful to again have the support of the Tennessee Titans," said Kimberly Washington, LP PENCIL Box Program Manager. "Over 70% of MNPS students receive free or reduced lunch and providing educators with free supplies directly assists the students as well."
Volunteers from PENCIL Foundation and LP Building Products will collect donated items from fans at the seven collection drop-off locations outside LP Field with the collection time starting at 10:00am through the first quarter of the game.  Fans are encouraged to bring the following most-needed items:
Pencil Boxes
Backpacks
Notebook Paper
Primary Tablets
Kleenex
Paper Towels
Construction Paper
Art Supplies
Classroom Cleaning Supplies
During the 2009-2010 school year, LP PENCIL Box: • Received in-kind donations totaling $377,242• Recorded 2, 067 teacher shopping visits, benefiting 30,000 Nashville students• Distributed supplies valued at $488,898
"The Titans are very excited to once again partner with LP's effort to provide school supplies for Nashville's less fortunate students," said Don MacLachlan, Titans EVP of Administration and Facilities.  "LP has an incredible desire and very generous history of aiding many charitable endeavors throughout the country.  We are proud to join them in our annual game day drive for the LP PENCIL Box.  Since moving to Tennessee our fans have always responded to our charitable drives in a most gracious manner, proving once again why they are the best fans in the NFL!"
"Titans fans and the Tennessee Titans have made significant contributions to LP PENCIL Box," said Mary Cohn, corporate affairs manager and president of the LP Foundation, the charitable arm of LP. "We are proud to again partner with them to support Metro schools and build a better future for Nashville."
The Tennessee Titans have had great success with their annual stadium drives and will continue to collect items this season to include the *Nurses for Newborns Baby Shower Drive on Sept. 25; the Cell Phone Drive on Oct. 23; the YWCA "Undie Sunday" Drive on Oct. 30; Second Harvest Food Drive on Nov. 6; Titans Foundation Coat Drive on Nov. 27: and the US Marine Corps Toys for Tots Drive on Dec. 11.  *           
Joining the Titans once again in 2011 as a gameday charity drive partner is American Paper & Twine, a business partner with the Titans.  American Paper & Twine will provide trucks and drivers to collect and then deliver items for all of the charity drives, eliminating the costs and services previously incurred by the individual charities.
"We are very pleased that American Paper & Twine has once again stepped up to join us in our efforts to help our neighbors with these drives," MacLachlan added.  "The Doochin family (owners of the company) has a great tradition of charitable efforts and this is another outstanding example of their willingness to help others."
"American Paper & Twine Co. is honored to be able to reach out and help people in need by assisting both the Titans and their charitable partners in these game-day drives," said Bob Doochin, President and CEO of the company.
American Paper & Twine Company's tradition of trust began over 83 years ago in 1926 when two young men, Nathan Doochin and Milton Lockenbach, saw an opportunity to create a niche in the expanding Nashville wholesale market.  Eighty-three years later, American Paper & Twine has become a leader in the wholesale distribution of office, packaging, janitorial and food service products.  For more information on American Paper & Twine, please visit http://www.shopapt.com/index.htm.