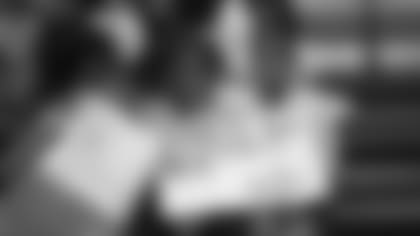 Students at Head Middle Magnet School show their appreciation to the Titans and LP for the school supplies that were delivered on Tuesday.
NASHVILLE, Tenn. --** Sixth graders at Head Middle Magnet School gave a rousing welcome to T-Rac, the famed furry mascot of the Tennessee Titans, on Tuesday afternoon as he slid across the gym floor, hugged and danced with students and gave a go of it on the drumline.

T-Rac helped representatives from the Titans, LP Building Products, the PENCIL Foundation and American Paper & Twine Co. distribute boxes of supplies to each sixth-grade teacher.

Spirited students shouted for joy and laughed at the mascot's antics that included dance moves with teachers and administrators and a playful headlock of a young drummer as T-Rac commandeered a base drum.

"We're so grateful that all of our sixth-grade teachers were able to do this, as well as having T-Rac come out and get our students excited," Dr. Angela Carr, school principal, said. "It doesn't take much to get sixth graders excited. Throw in the Titans name, and the excitement automatically comes because a lot of our students love the Titans. T-Rac just does everything."

Although the school specializes in math and science, students displayed other talents to welcome the guests with peppy music and colorful signs.

"We had the band playing," Carr said. "They've been looking forward to it and have been practicing certain pieces. We have a very strong band program, and our students made the posters for the Titans, too. We do focus on math and science, but we have other talents as well."

The students roared again when Titans Vice President of Community Relations Bob Hyde told them that each student would receive a Titans team poster to take home.

The visit and donation were in conjunction with the LP PENCIL Box program, which collects thousands of school supplies each year and places them in a free store where Metro Nashville Public School teachers can shop for their students' classroom needs two times a school year.

The PENCIL Box store, located at McCann Alternative Center, 1300 56th Avenue North, was hit hard by last May's flood but worked hard to recover and reopen its store by August.

Titans fans helped the replenishment by donating more than 30,000 items worth more than $25,000 during a game-day drive where donations were collected outside LP Field before the Titans' season-opening win against the Oakland Raiders.

It was the fifth year for a school supply drive that continues to grow, said Ashley Gutierrez, with LP Corporate Affairs.

"Each year it grows tremendously," Gutierrez said. "I think we started out five years ago around $16,000 in supplies, and this year (we received) over $25,000 worth of school supplies."

American Paper & Twine has donated the services of its delivery trucks and drivers this year to help during each of the Titans' stadium drives, which eliminates transportation costs. This Sunday the Titans are asking fans to donate used cell phones for the Cell Phones for Soldiers program, which uses proceeds from recycled phones to purchase calling cards for soldiers who are serving overseas.

Gutierrez said the welcome from the students and appreciation from the teachers for the LP PENCIL Box program is tremendous.

"It never ceases to amaze me," Gutierrez said. "We've done this every year after the drive at LP Field. Every year we come and do it, and T-Rac walks into that room and we walk in with all the school supplies, the kids go crazy and the teachers light up. It's a blast."