**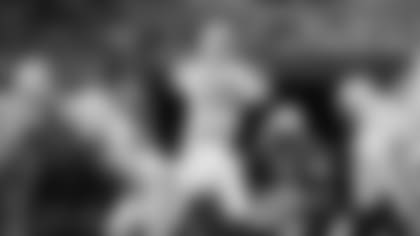 Tennessee's defense will look to slow down Peyton Manning, who is off to a hot start in 2009.
NASHVILLE, Tenn. --** Last season, Tennessee and Indianapolis both made the playoffs out of the AFC South as the Titans finished with the league's best record to end the Colts' run of five straight division titles.
Both teams were expected to contend for that crown again this season, but only one looks like it will make a return trip to the playoffs.
Peyton Manning and the Colts look to improve to 5-0 on Sunday night as they face the winless Titans.
Manning has gotten off to a superb start with a franchise-record four consecutive 300-yard games, helping Indianapolis open 4-0 for the fourth time in five seasons.
The three-time league MVP is the league's top-rated passer after completing 31 of 41 for 353 yards with two touchdowns and an interception in last Sunday's 34-17 win over Seattle.
Manning has the Colts back in a familiar place, leading the division, after a slow start last year led to the team finishing out of first place for the first time since 2002.
The Titans (0-4) took advantage, opening 2008 with 10 consecutive wins -- including a 31-21 victory over the Colts in Week 8 -- en route to a 13-3 record to run away with the South.
Things haven't gone as smoothly for Tennessee this season.
The Titans are off to their worst start since beginning 0-5 in 2006, and those Super Bowl aspirations aren't looking so good. Only one team has started 0-4 and reached the playoffs -- San Diego in 1992.
Despite the awful start, coach Jeff Fisher is trying to stay positive. His 2002 team started 1-4 but managed to reach the AFC championship game.
"They'll find a way out of this, and that's all we can do," Fisher said. "I know I've said this before, but you come back and you work and you try to find a way to win the next game and keep your focus on improving."
Fisher is sticking with Kerry Collins at quarterback rather than switching to Vince Young even though the 15-year veteran already has almost as many interceptions (six) as he did in all of 2008 (seven).
"Kerry's not the problem," Fisher said of the NFL's 28th-rated passer.
The defense is definitely a problem, and it will have its hands full trying to stop Manning.
The Titans were second in the league in scoring defense a year ago (14.6 ppg) but are tied for 26th this year (27.0). They've struggled to pressure the quarterback and create turnovers, accumulating nine sacks and six interceptions, down from 15 and eight after four games last season.
In last Sunday's 37-17 loss to Jacksonville, Tennessee allowed David Garrard to throw for 323 yards and three touchdowns.
Garrard, a quarterback who directs a run-first offense, picking apart their defense does not bode well for the Titans in this matchup.
Manning has led Indianapolis to a league-best 13 consecutive regular-season wins since last year's loss to the Titans, including a 23-0 home victory over Tennessee in a Week 17 finale with no playoff implications.
The Pro Bowl quarterback threw for 223 yards, two touchdowns and two interceptions at Tennessee last season but could have better luck against a banged-up Titans team that is tied for last in the NFL in pass defense, allowing 282.3 yards per game.
From Tennessee's secondary, nickel back Vincent Fuller is out with a broken right forearm while cornerbacks Cortland Finnegan (hamstring) and Nick Harper (ribs) are listed as day-to-day.
While the Titans defense is in shambles, Indianapolis' is looking strong.
The Colts are tied for fourth in the league in both scoring defense (15.5) and sacks (12) with defensive ends Dwight Freeney and Robert Mathis already recording five sacks each.
Freeney, Mathis and the rest of the Indianapolis defense have completely shut down the run in the last two games, limiting Seattle and Arizona to a combined 73 rushing yards.
"What makes it fun is success," Freeney said. "That's what's going on right now around here. You build off that momentum and everything snowballs."
Plus, the Colts defense could welcome back linebacker Gary Brackett after he missed two games with a sprained knee, and safety Bob Sanders is closer to making his season debut after having his most extensive practice time since undergoing offseason knee surgery.
The Colts now focus on stopping Titans running back Chris Johnson, who leads the league with 434 yards rushing. He ran for 77 yards and a touchdown on 19 carries in the win over Indianapolis last season.