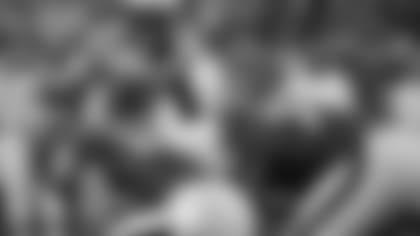 The Titans will look to snap a three-game losing streak when they play at Houston on Sunday.
NASHVILLE, Tenn. --** The seemingly irreparable relationship between Vince Young and his coach Jeff Fisher won't have to be figured out until the offseason now that the quarterback will miss the rest of the year with a thumb injury.

Tennessee is just hoping that its season isn't unfixable as well.

After a tumultuous week, the Titans will try to get back on track Sunday as quarterback Rusty Smith makes his first NFL start against the struggling Houston Texans.

Young needs season-ending surgery to repair a flexor tendon in his right thumb, which he injured in the third quarter of last Sunday's 19-16 overtime loss to Washington.

Things became even messier for Young and the Titans (5-5) after that.

Young, who tossed his pads into the stands while leaving the field, reportedly got into a heated exchange with Fisher and stormed out of the stadium. An assistant coach asked Young not to attend a team meeting Tuesday.

While Titans owner Bud Adams reportedly said he wants his quarterback and coach to "get this thing settled," it's unclear whether their relationship is irreconcilable.

"I think there will be a conversation at some point," Fisher said. "I'm not going to put a timetable on it. He's on injured reserve, and we're moving on."

In nine games this season, Young threw for 1,255 yards and 10 touchdowns, posting a career-high quarterback rating of 98.6.

While Kerry Collins will likely be the starter when he returns from a calf injury, there will be major questions about Tennessee's quarterback play as Smith starts Sunday.

A sixth-round draft pick this year out of Florida Atlantic, Smith threw nine passes in his first NFL appearance last week, completing three for 62 yards. He also had an interception.

"We've had changes in three of the last four games with Vince and Kerry," Fisher told the Titans' official website. "Now we've got another one. I'm excited for Rusty because Rusty knows what to do. Rusty understands the offense. There is going to be some growing pains with him a little bit, but ... I think Rusty will be successful."

Smith, who will try to get Randy Moss the ball after the Titans' newcomer was held without a catch against Washington, could have some success against a Houston pass defense that ranks last in the NFL. The Texans have given up a league-high 25 passing touchdowns while allowing 301.0 yards per game.

Houston had enough trouble slowing down reigning NFL rushing champion Chris Johnson last year. Johnson averaged 7.7 yards per carry and 174.0 yards per game in two meetings with the Texans, which the teams split.

Despite a three-game losing streak and the Young mess, Tennessee still has a lot to play for. At 5-5, it's only one game behind Jacksonville and Indianapolis in the AFC South.

The Texans (4-6) remain in the hunt as well despite having lost their last four, with the last two coming in especially difficult fashion.

Houston lost 30-27 to the New York Jets last Sunday after Mark Sanchez threw a short touchdown pass with 10 seconds remaining. The Texans had scored 20 unanswered points to erase a 16-point fourth-quarter deficit.

The loss came a week after cornerback Glover Quin batted Jacksonville quarterback David Garrard's last-second heave into the waiting hands of Mike Thomas, which gave the Jaguars the winning touchdown in the Texans' 31-24 loss.

The late breakdown in Jacksonville led Houston coach Gary Kubiak to move defensive coordinator Frank Bush from the press box to the sidelines, but the Texans gave up 401 yards of offense to the Jets after allowing a season-worst 491 the week before.

Houston ranks 31st in the NFL in yards allowed per game with 408.8, but Kubiak gave Bush, whom he hired in 2007, a vote of confidence.

"I believe in him," Kubiak said. "We played much better defense. There were a lot of good things that went on. I believe in the guy. We'll figure out a way to get it done."

The Texans' running game has also struggled the last two weeks. Houston ran for 97 yards against the Jets after recording 81 against the Jaguars. Prior to that, it was averaging 136.5 yards.

Arian Foster, who leads the NFL with 100.4 rushing yards per game, still had 84 yards and two touchdowns against the Jets, giving him eight TDs in his last five games.

Like the Titans, the Texans aren't giving up on the season, especially with three more division games.

"We sure as hell aren't giving up," Kubiak said. "There's a lot of football left to play."

Both 2009 games between Houston and Tennessee were decided by three points. The Titans won at Houston 20-17 on Nov. 23, 2009, improving to 12-4 in the all-time series and 6-2 in their franchise's former home.

Texans quarterback Matt Schaub was outstanding against Tennessee last year, going 50 of 78 for 662 yards and six touchdowns without an interception. Three of the scores and 227 of the yards went to Andre Johnson.