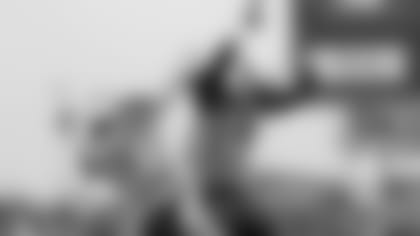 With five games remaining, the Titans are looking to get on a run to make the playoffs.
NASHVILLE, Tenn. — They stand two back with five to play, but the Titans think they are on the move.
Tennessee (6-5) visits Buffalo (5-6) Sunday for a game that both teams are treating like a playoff contest. Unlike the playoffs, a loss won't bring the end of the season, but it will create more obstacles in the path to the postseason.
"We know that if we want to reach our goals of winning our division and being in the playoffs, we know what we have to do," Munchak said. "We won one last week so that gave us a chance to get something started and we have to win this one. I know Buffalo is in the same spot right now where they have to win, similar to where Tampa was last week. These are the playoffs before the playoffs for teams that are on the fringe of the battle for the playoffs."
Chris Johnson ran for a season-high 190 of Tennessee's 202 rushing yards, and the Titans staged a come-from-behind 23-17 victory against Tampa Bay Sunday on a cold, rainy day at LP Field.
"I feel like some momentum is coming on," Johnson said Wednesday. "It's a situation where we've just got to stay consistent, keep executing the plays and keep winning. I feel like if we do that, we're going to have some pretty good rushing days."
Fullback Ahmard Hall said the Titans know the stakes and the possibilities as the calendar changes.
"It is a pivotal month," Hall said. "We're kind of hitting our stride in the running game and hitting our stride as an offense at the right time. You look at the Green Bay Packers last season, for instance. They were struggling; they had a lot of injuries. Everybody was thinking they were dead in the water and they hit their stride at the right time. I think we can do that and win our last five games."
The Packers went 3-2 in their final five games but built momentum the last two games of the regular season to secure the No. 6 seed in the NFC Playoffs and won three in a row on the road to advance to the Super Bowl. The Titans need to do better than 3-2 if they are going to close the gap on AFC South leader Houston (8-3).
The Bills started the season 4-1 and are 4-1 at home, but they have lost three straight road games as injuries have multiplied. Buffalo has 14 players on injured reserve and are three games back of AFC East leader New England (8-3).
Bills coach Chan Gailey said the recent problems have stemmed from a "lack of execution in all phases."
"We've done some good things in spurts but we haven't put any consistent efforts for an entire ball game," Gailey said. "You can't play in spurts in this league, you'll get beat."
Sunday's surge in the rushing game by the Titans was encouraging, Johnson and Hall said, because of the important role that part of the offense plays when weather gets colder. It's also been a metric of outcomes for the Titans this season. Tennessee is 3-0 when it has more rushing yards than opponents and 2-5 when opponents gain more yards on the ground.
Hall said the opening plays against Tampa Bay hinted that it was going to be a productive day of running the football.
"Early in the game, we had some big runs. CJ broke what you call explosive runs — more than 12 to 15 yards," Hall said. "When you have some of those explosive runs early in the game, you're like 'OK, we can get this thing done,' and he just continued to pile up."
The 190 yards were the third highest total in a single game in Johnson's four-year career. It improved his rushing total for the season to 699 yards, increasing the likelihood that he will rush for 1,000 or more yards for the fourth straight year.
Johnson said the 1,000-yard mark is nice, but running in the postseason would be better.
"It's really more important to get to the playoffs," Johnson said. "That was one of my main goals coming into this year. We haven't been in three years, so that's kind of what we're focusing on right now."