NASHVILLE ,Tenn. — As part of Teen Dating Violence Awareness Month, Titans linebacker Derrick Morgan recently visited the Davidson County District Attorney's Office to speak about relationships, respect, and personal growth with seniors from LEAD Academy.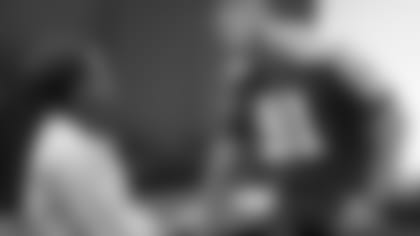 With son Elias in attendance, Morgan talked to the group about the importance of developing positive relationships, and spoke from his own experiences with his wife Charity about learning what that looks like.
"I really had to take an honest look at myself, and realize that relationships are all about compromise. It's not always one person's say-so over the other, so through that process, I realized how selfish I was. In a relationship, you have to put the other person in front of your own needs, and everybody's not ready for that. Everybody's not ready for a relationship, everybody's not ready for that commitment. But if you do make that commitment, and if you do step out and take this opportunity to be with somebody, you have to make sure that you put their needs above your own and respect them."
The Titans' 2010 first-round draft pick also gave the students advice for their transition to college and shared his experiences from his time as a student at Georgia Tech.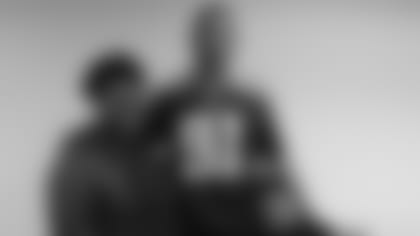 "There's so much freedom, and it's a great thing to have freedom, but you have to make sure you're being intentional with your time, because if you wait and let stuff pile up, and you're trying to dig yourself out a hole at the end of a semester, it's not a good situation," Morgan told the students. "For me, it was making those hard decisions, saying, 'Look, I've got this work I've got to accomplish.' So I had to say no a lot, to a lot of different things that were distractions and keep myself on a good pace."
When asked how the time management skills he developed in school have translated to his life as a professional athlete, Morgan responded that like any job, his time at work is strictly scheduled, but that those same skills can be applied to his free time as well.
"You have choices every single day. What am I going to invest my time in? Is it going to be hanging out with somebody, on the Internet, on Instagram, whatever? But what am I getting back from that? So for me, there's times where I have to delete Instagram off my phone because I'm too distracted. I'm not putting in time where I'm getting something in return. Whether that be picking up a book, doing research on a topic I'm interested in, or just finding ways to better myself, I'm getting way more of a return on that time investment than spending time somewhere else," he said.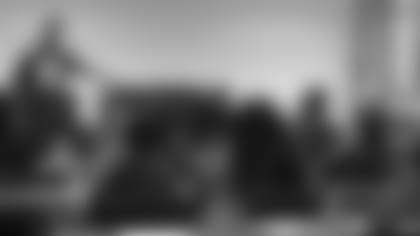 Morgan's visit was part of a day-long event hosted for the students by the District Attorney's office that had a dual purpose, according to Dorinda Carter, Chief of Staff for the District Attorney General.
"We wanted the kids to consider the legal profession as a possible career," said Carter. "Also, since they were coming on Valentine's Day, [we] wanted to talk about healthy relationships and the importance of giving respect and demanding respect for yourself. It was a good day to talk about love of self, love of community, love for the Titans, and love for others."
The students also heard from District Attorney General Glenn Funk and several Assistant District Attorneys on the career opportunities available to them in the legal field. They had a chance to ask questions of each of the day's speakers, providing valuable educational and networking opportunities.
According to the National Resource Center on Domestic Violence, approximately 1.5 million high school students nationwide experience physical abuse from a dating partner in a single year. Each year, February is recognized as Teen Dating Violence Awareness Month in an effort to raise awareness and educate students about healthy, positive relationships.