NASHVILLE, Tenn. —Titans linebacker Avery Williamson went Hollywood this past week.
Williamson attended an Oscars-related event in Los Angeles, and made the rounds at ESPN Sports Nation, Fox Sports and the Red Bull studio. At each location, he got a behind-the-scenes look at life behind the cameras.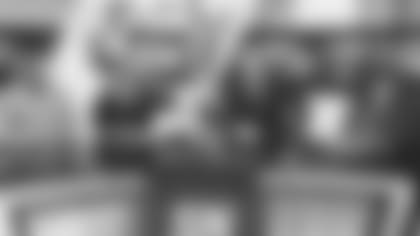 Avery Williamson sits in on the set of ESPN Nation in Los Angeles.
He was able to spread knowledge about the Titans. The Oscars event was a red carpet affair put on by PwC, which oversees the voting process. He met Michelle Beadle, Max Kellerman and Marcellus Wiley at ESPN Sports Nation.
"It was nice,'' said Williamson, who has started 27 games over his first two NFL seasons.
In Los Angeles, Williamson faced some questions himself. There's a chance he could appear as an on-air guest at some of the national shows later in the offseason.
"They asked me how I feel about the hires (at head coach and GM), and who we would take with the No.1 pick in the draft,'' Williamson said.  "A lot of people were asking me about Marcus (Mariota), and how I am going to improve myself for next season.
"It was positive. And I feel like the steps coach (Mike) Mularkey will take, and has taken, I really do feel like we are headed in the right direction. I feel like we have the right people to get some more wins."
Earlier this week, Williamson began working at Pro Edge in Chandler, Arizona, which was recommended to him by former Bears linebacker Lance Briggs.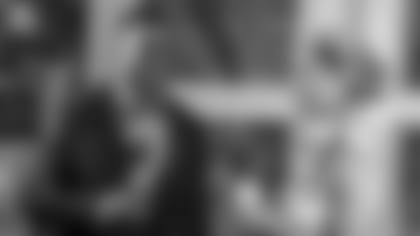 Avery Williamson on the red carpet at an Oscars-related event in Los Angeles.
His mission following a season when he led the team with 137 tackles, the highest tackle total by a Titans linebacker since Stephen Tulloch's 169 stops in 2010, is to get better.
"I would say the biggest thing is making sure I am getting more explosive, and moving better on the field. I want to be a lot quicker than last year,'' Williamson said. "There were a few plays I felt I could have made last year that I didn't and the quicker you can be, the more explosive you are, the less plays you'll miss."
"I want to be stronger and be more explosive."
Williamson said he's been encouraged by what he's seen over the last few months, from the hiring of Mularkey to Dick LeBeau remaining to coach the defense.
He's also curious about what's ahead.
"It was really good to see coach LeBeau come back,'' Williamson said. "The improvements we made from my first year to last year, it was drastic. So I am excited to see what is going to happen this year with a few more additions, and guys having experience in the system.
"And I am definitely curious to see what is going to happen with free agency next week. I am anxious to see what is going to happen."