Houston Oilers/Tennessee Titans Owner and Founder K.S. "Bud" Adams, Jr. (left) talks with Dallas Texans/Kansas City Chiefs Founder Lamar Hunt (center) and New York Titans/Jets Founder Harry Wismer in January of 1960 as the American Football League prepared for its first season. Adams, Hunt and Wismer were members of the "Foolish Club," a group of eight owners who established the AFL to challenge the NFL.
Each week this season, Titans Online is taking a look back at a game in franchise history against the upcoming opponent.
Oct. 14, 1962: Houston Oilers 56, New York Titans 17
This flashback zooms back 50 years to a meeting between two charter members of the American Football League.
The two-time defending AFL Champion Houston Oilers hosted the New York Titans at Jeppesen Stadium in front of 20,650 fans in the upstart league's third season.
Houston quarterback, kicker and future Pro Football Hall of Fame inductee George Blanda threw six touchdown passes and kicked a franchise record eight points after touchdowns in the blowout victory.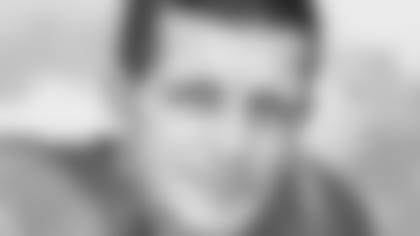 The six touchdowns in one game rank second in the Tennessee Titans/Oilers franchise record book behind the seven TD passes Blanda posted against the New York Titans in Houston on Nov. 19, 1961, which tied a pro record.
Blanda was 13-for-24 for 190 yards in the teams' first matchup of 1962. He completed two touchdowns to Bill Groman (12 and 54 yards) and Bob McLeod (25 and 10 yards), and one each to Dave Smith (13 yards) and Charlie Hennigan (20 yards).
Jacky Lee added a 35-yard pass to Willard Dewveall in the fourth quarter, and Blanda kicked the eighth extra point of the game, which is tied for second in the pro record book.
Houston outgained New York 437 to 140 in total net yards, 185 to 47 in rushing yards and 252 to 93 in net passing yards. The Oilers also recorded nine sacks for losses of 61 yards and recovered six turnovers (three fumbles and one interception each by defensive end Don Floyd, cornerback Mark Johnston and safety Bob Suci).
In addition to rushing 20 times for 114 yards and a score, Smith also completed 2-of-2 passes for 34 yards and caught three passes for 17 yards, according to www.pro-football-reference.com.
Houston closed the 1962 regular season by visiting New York and won 44-10 in front of 8,167 at the Polo Grounds on Dec. 15, 1962. Blanda threw three TDs, kicked a 30-yard field goal and added five extra points that day against the New York Titans, who changed their name to the Jets in 1963.
The Titans name was not used again in American professional football until 1999 when the Oilers became the Tennessee Titans.