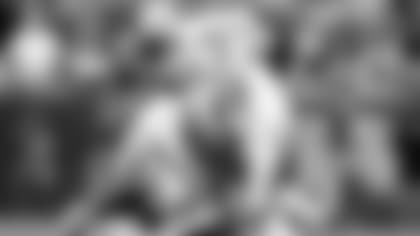 Safety Michael Griffin comes up with a big tackle on fourth down, giving the ball back to the Titans during Sunday's 31-13 victory at Cleveland.
NASHVILLE, Tenn. - The Tennessee Titans have jelled quickly under a new defensive coordinator and now five different starters from a year ago. They have given up the fewest points in the NFL and are allowing the least yards per play.
Safety Jordan Babineaux has a warning for opponents: The Titans can be even better.
"The thing that you all don't see is the fact that we're winning, but we're still not playing our best football,'' Babineaux said Wednesday. "That's scary. Watch out.''
The Titans (3-1) care most about keeping opponents out of the end zone and have done a good job so far doing just that. Nobody has scored more than 16 points against Tennessee so far, and that was Jacksonville in an opening 16-14 loss. The Titans haven't lost since then, giving up 13 in beating Baltimore, 14 to Denver and 13 in last week's win at Cleveland.
"You keep them out of the end zone, you put yourself in position to win that's for sure,'' Babineaux said. "One of the other things is great team defense will get that done whether you're first in the run game or last in the passing, it doesn't matter. If your red zone efficiency and you're able to keep teams out of the end zone ... we're giving the offense a great chance to score points.''
The Titans also are holding opponents to a league-fewest 4.36 yards per play. They have given up only 10 plays of 20 or more yards through the first four games, tied with Cincinnati for fewest in the NFL. Only one of those came on a run play when Maurice Jones-Drew ran for 21 yards in the opener, and they haven't given up a pass play longer than 32 yards.
That point stat is what matters most to the Titans.
"We're very proud of that,'' cornerback Jason McCourty said. "At the beginning of the year we came in and that's what we talked about. Championship teams and the amount of points they've let up.''
Mike Munchak hired Jerry Gray as his defensive coordinator in February shortly after he was promoted to head coach. Gray took over a defense that ranked 15th in the league in points allowed but 26th in total yards and 29th against the past. No NFL defense gave up more first downs per game than the Titans. It didn't help that the NFL lockout wiped out the offseason.
The Titans stocked up on defense in the draft, and linebacker Akeem Ayers, a second-round pick out of UCLA, has worked with the starting defense since the first practice of training camp with tackle Jurrell Casey of Southern California starting in the middle. Each has started the first four games, the first time that's happened since this franchise switched nicknames to the Titans in 1999.
Ayers already has 20 tackles, a sack and 20 quarterback pressures. Casey has 19 tackles with three quarterback pressures.
They aren't the only new faces. Tennessee added veteran Barrett Ruud at middle linebacker, tackle Shaun Smith to add size in the middle of the line next to Casey and Babineaux started two games while Chris Hope recovered from a dislocated shoulder. Now Babineaux will be starting while Hope recovers from a broken left forearm.
Cornerback Cortland Finnegan credits Gray with playing everyone to their strengths. That includes moving Finnegan from covering receivers near the sideline in passing situations into the slot, which Pittsburgh coach Mike Tomlin has noticed as the Steelers (2-2) prepare to host Tennessee on Sunday.
"I really think it is awesome utilization of his natural skills and awareness,'' Tomlin said. "He is doing an awesome job of it, not only creating plays for himself but for others. It is pretty special.''
Steelers quarterback Ben Roethlisberger said he has to find Finnegan on the field. But he thinks the Titans' strength on defense is up front.
"They have a very good D-line that really has high motors and gets after the ball,'' Roethlisberger said.
The Titans gave up a late touchdown to Cleveland last week that didn't matter on the scoreboard in a 31-13 win. That didn't Gray from continuing to teach his players on the sideline. Finnegan said they are working to eliminate mental errors, and McCourty said Gray expects perfection from them.
"As a player, you've got to love that a coach is going to stay on you and try to get the best out of you,'' McCourty said. "The fact that we're up a lot of points and he's still coaching, still getting after us, he knows that there's a bigger picture beyond the game.''
NOTES: TE Craig Stevens (ribs) did not practice Wednesday along with WR Marc Mariani (hip). S Michael Griffin was limited due a stomach virus, and LB Gerald McRath (left knee) practiced after sitting out last week.