NASHVILLE, Tenn. — New terminology and technology greeted Titans players Monday when they were allowed to begin their 2014 offseason program by meeting with coaches and participating in on-field conditioning exercises.
New coach Ken Whisenhunt said the Titans took care of multiple administrative procedures and discussed rules, expectations and goals. Whisenhunt plans to install new offensive and defensive systems. He's hoping players will learn the verbiage quickly to better implement the schemes when the program advances to the stages that allow on-field participation in drills.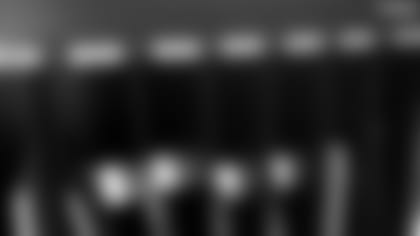 Titans players returned to Saint Thomas Sports Park Monday and found new iPad playbooks waiting for them in the team's meeting room.
When players walked into the meeting, they discovered that digital playbooks on iPads had replaced the paper-filled binders that formerly filled the numbered slots that correspond to their jersey numbers. Whisenhunt said the playbooks were well-received, and he thinks they will provide a more convenient way for players to study at home.
"I think the general consensus that I get is they're excited about it, and anytime you have something new, and you have opportunity to look at it and play around with it, these guys will do that," Whisenhunt said. "If we can capture their attention for a little bit of time when they're away from here, that's a good thing.
"It seems like it's easy to carry around. It has a lot of capabilities instead of a bulky playbook, so there's a lot more information in a compressed device, which is easier to handle," he added. "It's easier to sit with it when you're at home watching TV and look at video or look over things as opposed to having to put a book in a bag. It seems more convenient."
Titans quarterback Jake Locker, who said his recovery from a Lisfranc injury is going well, said he is looking forward to learning the new offense and putting it into action when he's fully recovered (which could be some point in May, the QB and Whisenhunt said).   
"Terminology is always the number one thing that is different and you end up learning it. Most teams run very similar plays when you draw them up but they're called something different," Locker said. "You get to them a different way, so learning those differences and getting them straight in your mind is usually how that goes. I think (the iPad) allows you to go and start finding those differences and figuring out how you're going to be straightening them out for yourself, so I'm excited about it."
Tennessee and all other teams with new coaches were able to begin their programs Monday, but NFL teams with returning coaches must wait two weeks until April 21.
Some might say the Titans have a head start on the 2014 season, but others could counter that they will be playing chase with other teams who are not installing new offenses or defenses or both.
"We're putting in a new offense and a new defense and we've never done anything with these guys before," Whisenhunt said. "It's good that we get an extra two weeks, but we're behind, and it's going to take a lot of effort from our guys, in the classroom and then once we get on the field."
Linebacker Wesley Woodyard, who joined Tennessee this year as a free agent after six seasons in Denver, said the technology was helpful in his past couple of seasons with the Broncos.
"It's really good," Woodyard said. "You get home, you don't have to carry (DVDs) around or anything like that to watch film, so it's always a heads-up for us to prepare throughout the week."
Jason McCourty said Bernard Pollard told teammates about using similar technology during his time with the Ravens and finding it quite helpful.
"It's something different and maybe something else that can give us an edge, as far as with today's technology, you can get anything out there as fast as it is," McCourty said. "We can go home this evening and may get something new sent to the iPad, whereas with playbooks, you can't do that."
McCourty, a two-time co-captain, said he plans to utilize the playbook "just about every day."
"It's a lot of new stuff, so I want to make sure I know it inside and out. As one of the older guys — and I consider myself one of the leaders on this team — I want to be able to, if a younger guy comes to me and has a question, answer it for them," McCourty said. "The faster that I can pick up the playbook and learn everything we're trying to do and be on the same page with the coaches, the better I can help myself and the guys under me."