NASHVILLE, Tenn. — Almost 300 young people from the area learned the past two days that no matter where they go with football, character will take them further in life.
The theme was delivered on behalf of the NFL by former Tennessee Volunteers offensive lineman Michael Munoz, president of Cincinnati-based Munoz Agency, former Titans/Oilers greats Blaine Bishop and Brad Hopkins and high school and college coaches during the NFL Play 60 Character Camp at Baptist Sports Park.
The non-contact football camp guided young people through football drills and included seven-on-seven scrimmages and other games, but also incorporated discussions about character and recognized multiple campers as "Most Valuable Persons" after they were nominated by coaches. It was the fourth of 12 camps scheduled in NFL markets across the country this summer.
"We're teaching kids about football and we're teaching them about the Play 60 message, which is get out for 60 minutes a day and have proper nutrition and hydration," Munoz said, "but we also teach them about character and teamwork and leadership and what it means to impact their community.
"We'll probably be able to interact with close to 5,000 kids this summer, and maybe one of them will make it to the NFL," Munoz continued, "but all of them are going to need to know how to be leaders in their community and how to make the right decisions, how to interact with people so we feel like the traits they're going to be learning and we'll be able to reinforce through the coaches, they'll be able to take with them the rest of their lives."
Discussions during the camp focused on core traits of character: faith, gratefulness, self-control, loyalty, honor, responsibility, truthfulness and integrity. Campers Mayson Harris, Tia Floyd, Malik Jelks, Jesus Lopez and Emanuel Escarfuller were each recognized as "MVPs" for the quality of character they demonstrated during the camp.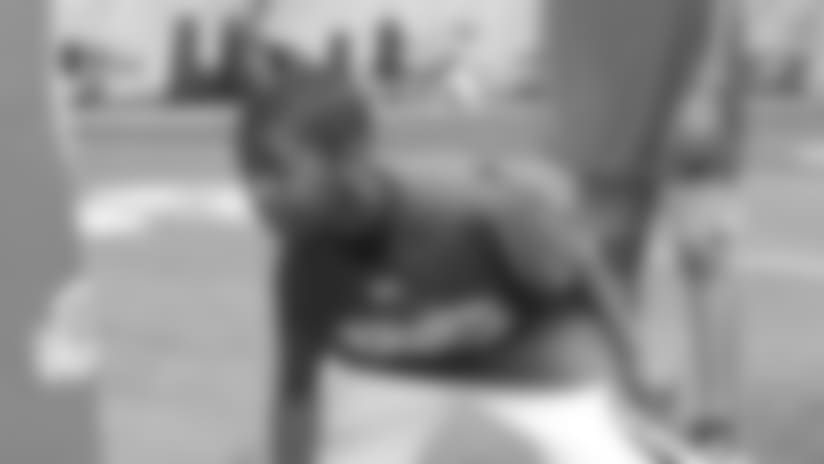 ](http://www.titansonline.com/media-center/photo-gallery/NFL-Play-60-Character-Camp/75b111e8-d4ca-4496-9d6b-3f8d0f6d78f1)
Young people were able to learn more about football and the importance of character during the NFL Play 60 Character Camp.
Click here for a slideshow.
"Every year around this time, when camps are starting, I get that bug like I want to be out on the field playing football," Munoz said. "My dad's been out of the game for almost 20 years now and he still gets that bug, so I think it's when you play football and you love the game, it's always in the blood and you always want to play it. Some people stop earlier than others, but it's exciting to be out here with the kids. I get to be able to teach them and see their enjoyment and how they enjoy football and love the game."
Bishop has also stayed connected with the game and the community. He's a spokesman for Fuel Up to Play 60 and an ambassador for Heads Up Football.
"Football builds character, and hopefully they all learn that with the time that they're here," Bishop said as the camp started Monday.
He added that he gets "chills" during events like this when he has a time to think of his younger days.
"You look back to when you were a kid and I wish I could go to a free camp back at that age. I was playing for a little league team but I wish I would have learned some of these things," Bishop said. "It's always exciting to see they're bright-eyed and bushy-tailed and wanting to learn everything and it's fun and they' being active. Being active 60 minutes a day is very key, especially when you have Xbox and everything else going on, kids don't want to get off the couch, so it's another form of getting out and getting exercise and having fun and learning the game of football."
Munoz and his staff have great enthusiasm for the Play 60 message while emphasizing the character lessons and giving the young people a unique and lasting memory.
"I love to be out here and hear things like, 'This is the best day of my life' or 'I wouldn't want to be anywhere else,' " Munoz said. "To see their eyes as they come into the Titans' practice facility the first time and they see, 'Oh man, this is where NFL players come out and practice and I get to be here and be just like Chris Johnson and their favorite players out on the field,' it's amazing."
news
Nissan Stadium Hosts Metro Nashville's Largest One-Day COVID Vaccination Effort
Ten thousand people were expected to drive through the eastside parking lots from 6 a.m. to 7 p.m. for the one-shot Johnson & Johnson COVID-19 vaccine, among the largest one-day efforts in the United States to date.