**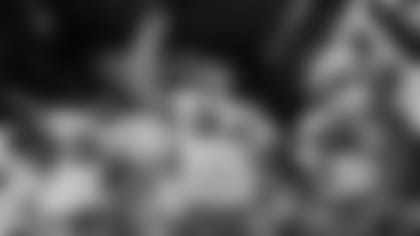 The Titans host St. Louis on Sunday, the beginning of what they hope will be a four-game winning streak to close out the regular season.
NASHVILLE, Tenn. -** The Tennessee Titans won't be streaking their way into the postseason. They aren't giving up even if the playoff math is complicated at the least and improbable at best.
Call it the lesson learned from 2006.
That year, the Titans started out 0-5 and still had a chance at a wild-card berth on the final day if three teams lost and they won. All three teams lost that day, but the Titans did too.
These Titans (5-7) have been very streaky starting 0-6 before making NFL history by winning the next five, a stretch that ended Sunday in a 27-17 loss at Indianapolis. That put them two back in the loss column with five teams between the Titans and the AFC's final wild-card slot, and Fisher noted they have not been eliminated yet.
"Realistically, most of it's out of our control,'' coach Jeff Fisher said Monday. "We need to win out, and they're aware of that. The only chance we've got is to win the next one.''
The Titans play three of their final four at home starting with a visit from St. Louis (1-11).
"This last month in the National Football League may be one of the more exciting months we've had in recent years as far as people still having an opportunity to get in. I'm sure there'll be teams in Week 17 that score at the end to get in and teams that gave up a last minute score to get bounced out,'' Fisher said.
Cornerback Cortland Finnegan was a rookie in 2006 when the Titans lost to New England in the regular season finale and remembers how they could blame only themselves for missing a playoff spot. An unpredictable AFC offers hope.
"We'll see how it goes. We just need to win the next one. It's exciting to see how it happens,'' Finnegan said.
Even with no playoff berth, the chance at a third straight winning record remains possible - something this franchise has never managed under Fisher.
First, the Titans need to figure out once again how to avoid hurting themselves.
They had the edge in time of possession, holding the ball for 32 minutes, 59 seconds, and they also outgained Indianapolis 375-358 in total offense. Chris Johnson ran for 113 yards and became just the fifth different player in NFL history to reach 1,500 yards rushing in his team's first 12 games. He now has an NFL-best 1,509 yards.
An offense that had been good inside the opponent's 20 this season failed. The Titans got inside the Indianapolis 20 three times and scored only one field goal. The field goal came after having first-and-goal at the Colts 9, but the Titans turned the ball over on downs after having first-and-goal at the Colts 1 and Colts 19 in the second half.
They also had two turnovers and couldn't stay in control. The costliest was defensive tackle Tony Brown reacting to being pushed from behind, then trying to poke a Colts lineman through his face mask. That put the Colts into field goal range for a 24-10 halftime lead.
That doesn't even include Nate Washington dropping a perfectly thrown pass from Vince Young that hit his hands. Washington had beaten the defender and seemingly blew what would have been a touchdown giving Tennessee the lead in the first quarter.
"That's something I can't do,'' Washington said after the game.
Fisher wasn't happy with the officiating in a game where a defender dove at Young's legs and took him down, injuring his left ankle with no flag thrown, and the missing of a defensive pass interference in the end zone. He said Monday he was disappointed at a number of calls both made and missed.
"There were some things in critical situations that slid by,'' Fisher said.
Young was getting treatment Monday for a sore right knee that Fisher said he didn't anticipate being a problem. Young said after the game it won't be tough at all to get over this streak-ending loss.
"Anything can happen. We have four more games left, and we will let that play out like it's supposed to be.''
NOTES: Defensive end Kyle Vanden Bosch was voted the 2009 winner of the Titans' Walter Payton Man of the Year award. He now is a finalist for the league-wide award, which will be announced the week of the Super Bowl in Miami. ... Vanden Bosch and cornerback Cortland Finnegan also were named to "All-Fundamentals'' team by USA Football and the NFL Players Association.