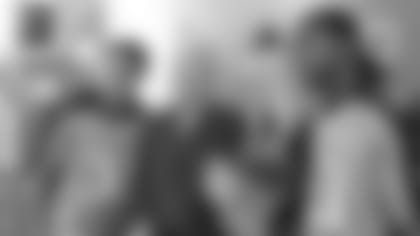 NASHVILLE, Tenn. — Titans players, cheerleaders, mascot T-Rac and team officials delivered heartfelt words of appreciation to American heroes this week while visiting the Veterans Affairs hospital.
Titans safety Michael Griffin, whose father served in the Air Force and mother served in the Navy, said he was grateful for the opportunity to thank veterans for what they've done and wish them well.
"It's kind of a different community, being that they serve our country," Griffin said. "We provide entertainment for them and they protect our lives. That's something special that they do for us, and there's nothing we can do that's enough to give back to them and show our appreciation."
Griffin remembered all the hard work and commitment level of service members that he observed during visits to his parents' bases.
"No amount of money can ever amount to what they do for this country," Griffin said.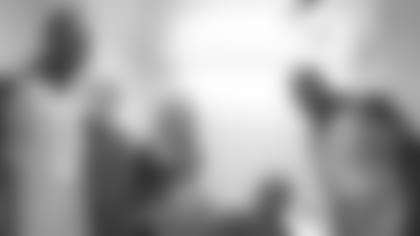 Griffin, Cortland Finnegan, Gerald McRath, Jared Cook, Craig Stevens, Daniel Graham, Ken Amato and Robert Johnson signed autographs and posed for pictures with veterans and then broke into teams to visit others. Griffin and Finnegan spent time with patients in the bone marrow transplant unit.
"It's a blessing to see what they've done for our country," Finnegan said. "It really hits home to know that they kept our freedom. It's a humbling thing and a chance to give back. You go in with a smile and then they light you up so it's a wonderful thing—a chance to say, 'Thank you,' for all the wonderful things you've done for our country."
Walter Lemke, a veteran of the United States Marine Corps, has been at the hospital since Sept. 25. Lemke grew up on the East Coast and currently resides in Arkansas. He said he greatly enjoyed meeting pro football players for the first time.
"When they told me they were coming, I was way excited," Lemke said. "They're good guys. They seemed down to earth."
Griffin and Finnegan also visited with Russell Prenatt, a veteran of the U.S. Army. Prenatt is a native of Edinboro, Pa. He served on the East Coast and in Germany and said the visit "made his week."
Tony Stevens, Assistant Chief of Voluntary Services for VA Tennessee Valley Healthcare System, said he could see the enjoyment on the faces of the veterans.
"It was a special visit. It shows the Titans organization cares," Stevens said. "We've been doing this for four years, and every year is great. It really touched them."
Titans cheerleader Brooke, a 2011 captain who grew up near Fort Campbell Army Post, said she looks forward to the annual visit with the veterans.
"We just wanted to say thank you to the veterans," Brooke said. "They definitely remember it, and I've heard people say, 'This was the highlight of my week.' We're happy to be here and brighten their lives, brighten their spirits and just lift up everybody here."