**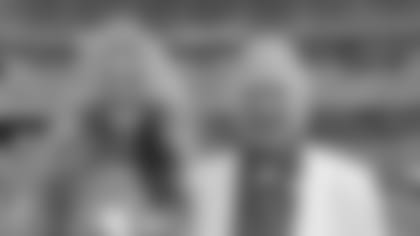 Teri Johnson is shown with Titans Owner Bud Adams.  Following the presentation of pink roses, Johnson and the other 11 breast cancer survivors raised the flag honoring the "12th Titan!"
NASHVILLE, Tenn. --
* The Titans, NFL and its players have come together in a big way to support October's National Breast Cancer Awareness Month with its largest on-field presence, a national breast cancer screening-reminder and fundraising campaign.  In collaboration with the American Cancer Society, the initiative, called *"A Crucial Catch: Annual Screening Saves Lives,"
encourages women 40 and older about the importance of having an annual mammogram.
On October 3, Titans owner K.S. "Bud" Adams, Jr. and the Titans organization recognized twelve local breast cancer survivors as part of the awareness campaign.  Mr. Adams presented the survivors with pink roses in addition to game tickets and an on-the-field experience as they were featured on the team's Jumbotron during the game.   
Breast cancer survivor Teri Johnson and the other survivors served as the "12th Titan" by raising the Titans flag just before kickoff.  Prior to entering the game, 20,000 fans were given pink ribbons by members of Zeta Tau Alpha Fraternity.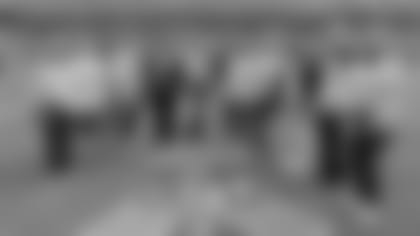 The 12 breast cancer survivors gathered around the NFL's logo promoting the campaign prior to kickoff.
In addition, game-worn pink autographed merchandise, including footballs, cleats, gloves, towels and caps from each NFL team will be  auctioned off at
NFL Auction
with proceeds benefitting the American Cancer Society and team charities.  
Special pink merchandise will be available at www.NFLShop.com and the Titans Pro Shop at LP Field, with a portion of proceeds going to breast cancer charities.  Unique NFL experiences such as a VIP trip to Super Bowl XLV and a 2011 Pro Bowl Spa Retreat Experience in Hawaii will also be up for auction.