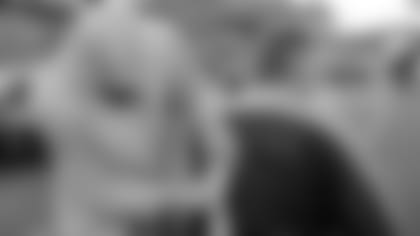 Titans fan Pat Emery, of Nashville, received the No. 1 jersey and was greeted by team owner Bud Adams before the game.
NASHVILLE, Tenn. — Titans owner K.S. "Bud" Adams Jr., new head coach Mike Munchak and every player on the roster gave a special welcome back to fans on Saturday at LP Field.
The Titans organization presented more than 90 Titans fans with jerseys before their 2011 preseason opener against Minnesota. 
Peter Pressman received No. 63—the jersey that Munchak wore during his Hall of Fame career with the Oilers/Titans franchise. The new head coach, Adams and every Titan on the roster greeted the fans on the field before the game and autographed the jerseys.
Pressman has been a fixture in Section 309 of LP Field since the Tennessee Titans opened the stadium in 1999. The charter PSL holder from Franklin, Tenn., sings with other Titans fans in his section after each Tennessee first down and participates in other video board segments during the game.
Pressman was already excited about Saturday — his first chance to see the Titans' veterans and new players return to the field under Munchak — and said he was "honored" to receive a replica of the coach's jersey.
Pat Emery, of Nashville, received the No. 1 jersey and was greeted by Adams before the game.
"Two weeks ago I got very excited," Emery said of when the NFL labor dispute was resolved. "I am very honored to receive the jersey from Mr. Adams and excited to be here."
Emery said he was looking forward to the Titans' debuts of veteran quarterback Matt Hasselbeck and rookie QB Jake Locker because of their talent and leadership abilities.
Michael Hickerson of Smyrna received the No. 10 jersey that he hopes to see Locker wear for years. Hickerson won a contest through Pinnacle Bank in which he correctly predicted the Titans would select Locker in the first round of the NFL Draft in April. 
"I look forward to watching him for years to come," Hickerson said. "I hope he's as good as advertised and think he will be."
Army Staff Sgt. Carlos Stewart said the No. 45 jersey he received has special meaning because of what Titans fullback Ahmard Hall — a veteran of the Marines — did before he donned the Tennessee uniform.
"I know he can understand us as a former service member," Stewart said. "Most football players can't say that."
Stewart is stationed at nearby Fort Campbell, Ky., where he works with Wounded Warriors. Spc. John Herazo, who served in Iraq, Spc. Marcus Figueroa, who served in Afghanistan, and Spc. Justin Alexander, who is in training, attended the game with Stewart and also received jerseys. 
"We appreciate Bud Adams and the Titans organization for what they do for us," Stewart said.