**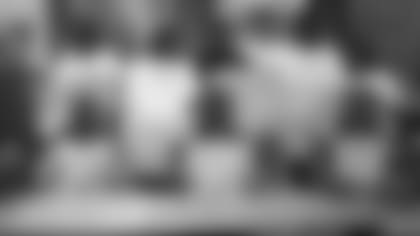 Titans players spoke encouraging words to young men of Y-Build, a YMCA Urban Development Services initiative at Camp Widjiwagan.
NASHVILLE, Tenn. --** The Tennessee Titans and the United Way of Metropolitan Nashville teamed up on October 6th for their annual Hometown Huddle event. A league wide program, all NFL teams had similar events in their respective communities. William Hayes, Kevin Vickerson and Vince Young visited participants of Y-Build, a YMCA Urban Development Services initiative, at Camp Widjiwagan to stress the importance of making good choices and working hard.
Y-Build is a program that provides young men ages 18-24 whom have had difficulty with drugs and crime to change their lives and learn a construction trade. The majority of the participants are high school drop outs and the program also allows the participants to earn their GED all while living together and learning how to remain drug and crime free. All thirty participants of the program were in attendance at the event as were Y-Build, United Way and Titans staff.
Young, Vickerson and Hayes all shared personal stories and gave advice to the young men about remaining positive, respecting others and doing the right thing, even when it may be hard, especially at this crucial time when they have chosen to change their lives for the better.
Titans quarterback Vince Young spoke about the camaraderie in the locker room, which he said was very similar to the Y-Build group.
"You guys live together so you will end up knowing about each other's backgrounds, their family and why they are who they are," said Young. "That's how we are in the locker room. It's important to know where your teammates are from and to respect that. You show respect to your peers by knowing them and that will help you succeed together. The world may be against you but your team will always stick by you."
"Everyday, you have to remain positive," added Hayes, a defensive end. "There are things you will do from this day on that will not make sense to you because it's different then what you've done in the past but you just have to do it and it will work itself out."
Y-Build participant Cortez Archibald was completely surprised when he saw Titans players walk through the door at Camp Widjiwagan on Tuesday. Archibald chose to enter Y-Build after a troubling youth.
"I decided to change my life and that's how I came to Y-Build," said Archibald.
"The thing I learned today is that the players have struggles too; that they still struggle to make good choices every day. TV makes things look glamorous and perfect when it really may not be. They have responsibilities and could lose their success at anytime. Today was very motivational for me."
When asked how he handles the day-to-day pressure of working in the NFL and staying positive, defensive tackle Kevin Vickerson said, "You have to be like the turtle in the race. You have to keep working hard. It doesn't matter where you start, its matters when you finish."
Each Y-Build participant was given a Titans poster on which they received Hayes, Vickerson and Young's autographs. A group photo was taken at the conclusion of the event and the players were able to mingle with the Y-Build participants and speak to them further on a one-on-one basis.