NASHVILLE, Tenn. --The Tennessee Titans hired Bob Bostad as offensive line coach.
Bostad (pronounced BOE-stad) has 24 years of coaching experience, including two NFL seasons. The last two seasons, he was the offensive line coach for the Tampa Bay Buccaneers. Prior to his time with the Bucs, he spent six seasons (2006-11) at Wisconsin.
"I have heard a lot about Bob through a number of people that I trust and I like the way his lines play," said Titans head coach Ken Whisenhunt. "I know in his background, he has had a lot of success as a line coach and he did a nice job in the interview this week. I thought it was a go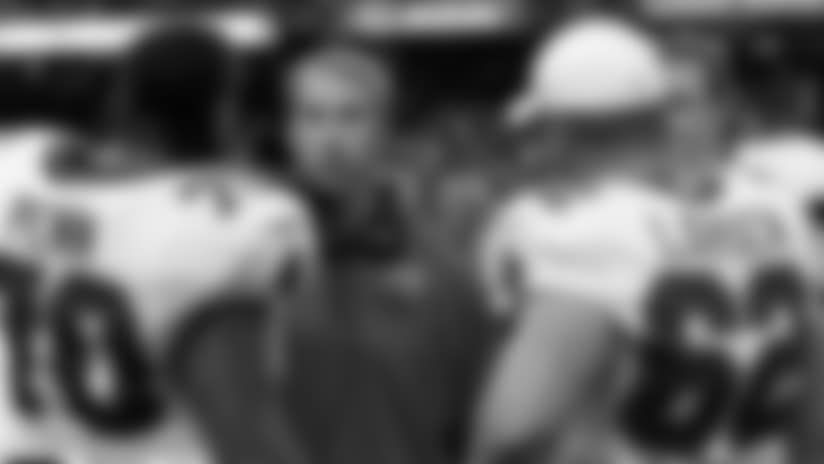 od match for what we want to do. Another thing that impressed me about him was number of guys that he developed that have gone on to play in the NFL. That is good sign, that he can coach and develop that type of player, which is important for a line coach."
Bostad began his NFL coaching career in 2012 with the Buccaneers after 22 years of college coaching experience. In his first season with Tampa Bay, G Davin Joseph earned a Pro Bowl selection, rookie RB Doug Martin rushed for 1,454 yards and the offense allowed only 26 sacks, which were the third fewest allowed in the NFL.
"I think the chance to work with coach Whisenhunt, who is highly respected in the NFL, and seeing his body of work and to be involved in his system is really exciting for me," said Bostad. "As a coach, what is important to me is that the guys know what they are doing, that they are going to play with confidence, feel comfortable in the system and communicate with each other. We don't want guys out there thinking they are splitting the atom, because it is a fast game and there isn't really time to be indecisive. Technique is important and we will drill that and become consistent at it. The goal is to get the group to play as one."
Bostad spent six successful seasons with the University of Wisconsin as the run game coordinator. In his first two seasons (2006-07), he coached tight ends and in his final four campaigns (2008-11), he coached the offensive line. He annually guided one of the nation's best rushing attacks. In each of his final two seasons, the Badgers totaled 3,000 rushing yards on their way to two Big Ten titles. He tutored four first team All-Americans on the Wisconsin offensive line – C Peter Konz and G Kevin Zeitler in 2011 and T Gabe Carimi and G John Moffit in 2010. In 2011, Heisman finalist RB Monte Ball rushed for 1,923 yards and set and NCAA mark with 39 touchdowns. He also coached All-American tight end Travis Beckum, who set school records for a tight end for receptions (75) and yards (982).
Prior to Wisconsin, Bostad spent six seasons (1999-2005) with New Mexico as the offensive line coach. He coached seven first-team All-Mountain West offensive line performers and designed blocking schemes for the conference offensive player of the year, DonTrell Moore, in 2005.
Bostad spent two seasons (1997-98) at San Jose State as offensive line coach and was elevated to co-offensive coordinator in his final year. He also had stops at Cal State Northridge (1995-96) and the University of Minnesota (1992-94).
Bostad was a four-year starter at linebacker for the University of Wisconsin – Stevens Point and started his coaching career there as the offensive line coach from 1990-91.
A native of Wisconsin, Bostad and his wife Cara have four children: Rachel, Bryn, Annika and John.