**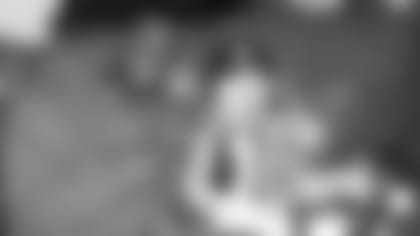 Titans QB Vince Young pictured with Ethan Bibb, a 9-year old who had his wish granted through the Make-a-Wish Foundation.
NASHVILLE, Tenn. --** As the first day of spring practice began for the Tennessee Titans this week, they welcomed 9-year-old Ethan Bibb and his family to Baptist Sports Park.  Ethan is a huge Titans fan and his wish was to spend the day with the Titans and his favorite player Vince Young. 
On Tuesday, Ethan's wish was granted through the Make-A-Wish Foundation, a non-profit organization that grants wishes for children with life-threatening illnesses, and the Tennessee Titans.  Ethan suffers from a Meduloblastoma brain tumor and is currently undergoing chemotherapy treatment.
Ethan and his family enjoyed a behind-the-scenes tour of Baptist Sports Park, taking an exclusive peak at the draft room, meeting rooms, weight room and locker room.  The excitement grew as he entered the locker room, where Ethan took pictures of his favorite player's locker, Vince Young.  He soon realized directly across from Vince's locker, he had his very own locker, containing his own personalized placeard, apparel and authentic jersey.  In addition, Ethan received a commemorative Titans football as well as an official NFL football -- one for autographs and one to toss around the yard. 
He was excited to attend the team practice and watch Vince and the Titans work through passing drills. At the conclusion of practice, Ethan was able to meet every player, getting autographs and taking pictures.  Many players gave him their gloves, apparel, and even an authentic Tennessee Titans helmet.
The best part of Ethan's visit was being able to eat lunch with Vince Young in the Titans cafeteria and have some one-on-one time with the quarterback to share stories. 
"I enjoyed visiting with Ethan and his family," said Young. "We have a lot of similarities – he likes to have fun, be goofy, he loves sports and we're big fans of each other.  Even though he knows what he's facing, Ethan still finds a way to laugh and joke.  He made a difference to all the players he met, reminding us how fortunate we all are and to be very thankful for blessings we have in everyday life. I look at a young man like Ethan as an angel."
The Tennessee Titans have had a longstanding relationship with the Make-A-Wish Foundation.  Over the last 10 years, the Titans organization, including players and cheerleaders, have been very instrumental in helping Make-A-Wish raise money and grant wishes to children with life-threatening illnesses.
About the Make-A-Wish Foundation:
Since 1980, the Make-A-Wish Foundation has given hope, strength and joy to children with life-threatening medical conditions. From our humble beginnings with one boy's wish to be a police officer, we've evolved into an organization that grants a child's wish in the United States and its territories every 40 minutes. The Foundation is now the largest wish-granting charity in the world, with 65 chapters in the United States and its territories.
The Middle Tennessee Chapter of the Make-A-Wish Foundation is the youngest Make-a-Wish Chapter in the country.  The chapter recently won national awards for Performance Excellence and for the 2008 Infinite Wish – Chase Donnell's Wish to Renovate His School Gymnasium. 
To refer a child with a life-threatening medical condition, call 615-259-2324 Ext 111. Individuals can make donations or donate frequent flyer miles at www.midtnwishes.org or call 615-259-2324 Ext 115.