NASHVILLE, Tenn. – While the Titans were preparing for their home game against the New York Giants last Sunday, they helped Saint Thomas Health host its Christmas Leadership Development Institute ("LDI") conference for more than 300 associates from across Tennessee at LP Field.
The morning began with an amusing video of president and CEO of Nashville inpatient operations, Bernie Sherry nodding on and off on his sofa and dreaming heartfelt stories of Christmas past – Dr. Seuss' How the Grinch Stole Christmas, A Charlie Brown Christmas, A Christmas Story - and all the characters were discussing the overall quality and importance of patients feeling good about their healthcare journey and connecting to their healthcare experience that is part of the combined efforts to carry the mission, structure and values of Saint Thomas Health.
"This is our commitment to continue our mission of making sure that we provide a wonderful place for our associates to work so we provide compassionate care to our patients," said Sherry.  "The leadership development institute is focused on providing our leaders the tools they need so they can support the work they do within our ministry."
Greg Pope, chief mission & ministry officer of Saint Thomas Health led the invocation and reminded the associates that everyone is a leader in healthcare and this was their calling to give.  Giving and caring this is why they come to work and why they are here.
Dr. Mike Schatzlein, president and CEO of Saint Thomas Health welcomed the group and thanked them for their dedication and commitment to helping people live healthier lives and transforming the healthcare experience.
"Taking better, reverent, holistic healthcare to patients wherever they are is what no other healthcare provider does," Schatzlein said.  "Getting close to patients in the community and providing compassionate healthcare is what our associates understand and believe in."
Carolers from the Saint Thomas Health Choir sang Christmas carols that filled the west club putting everyone in the holiday spirit, as the associates took a brief break for lunch. The carolers were led by Barry Wallace, who is the hospital's webmaster in corporate communications and the choir's director.
Titans' cheerleaders, Hannah and Kristen and mascot, T-Rac all stopped by to spread cheer and pose for pictures.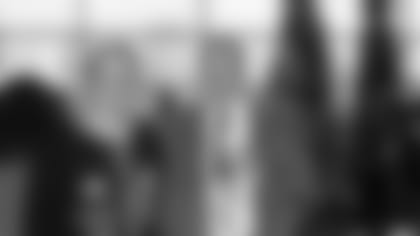 "Here we are again at our third "LDI" and we are so excited to have all of our leadership together again!" said Karen Springer, executive vice president and COO of Saint Thomas Health. "We ensure that we have commitment to our medical mission every day.  It's our mission that we give of ourselves, our talents, our hearts and commitment to the mission and supporting those leaders that care for our patients 365 days a year."
Additionally, the program provided information to cultivate continued excitement about their Ministry and its purpose with a special reflection on the Day of Hope and Healing event recently held at Municipal Auditorium.
All of the associates were encouraged to wear ugly and unique sweaters.  The ugly Christmas sweater has become a ubiquitous feature of the holiday season, on par with grumbling about Black Friday or wrestling with the Christmas lights. Everyone enjoyed the friendly and fun competition.  Each participant received one strand of holiday beads upon arrival and the winners that collected the most beads received special prizes.
Saint Thomas Health is committed to taking care of patients and their families physically, emotionally and spiritually. Their mission is to provide holistic care, which sustains and improves the health of individuals and communities.
Merry Christmas to all and Nothing shall be Impossible!
Saint Thomas Health associates take part in