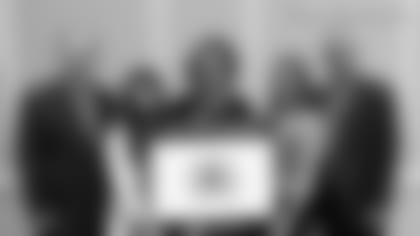 From left, Titans VP-Community Relations Bob Hyde, B&GC members Meeri Shin, Gabriella Madison, Ashley Heatherly and Chet Nichols, B&GCs of America.
NASHVILLE, Tenn. — The 2013 Tennessee Youth of the Year Celebration concluded in Nashville on March 27 with the announcement of three scholarships being awarded to the top three Tennessee Youth of the Year contestants. The winners were announced at the Legislative Luncheon held at Nashville's Downtown Sheraton Hotel.
The Boys & Girls Clubs (B&GC) of Tennessee receives annual funding from the Tennessee Titans Foundation and utilizes a portion of those funds to underwrite these scholarships.
Meeri Shin of the B&GC of Cleveland, Tenn., was selected as the 2013 Tennessee Youth of the Year, the highest honor given to any young man or woman by the organization. Shin's selection as Youth of the Year earned her a $5,000 scholarship.
Gabriella Madison of the B&GC of Morristown, Tenn., received a $3,000 scholarship check as first runner-up, and Ashley Heatherly of the B&GC of the Smokey Mountains received a $2,000 scholarship as second runner-up.
A total of 18 young men and women from B&GCs from across the state of Tennessee competed for the award. A panel of judges made their selections following an oral presentation and individual interviews with each candidate.
While only three of the candidates were declared winners, the luncheon program stated that "all of the 18 nominees were winners as they were the top club member from their respective clubs!"
The B&GCs of Tennessee are one of 10 statewide organizations that receives proceeds from the sales of Titans specialty license plates statewide. Since those plates were first made available, Titans fans have enabled these 10 charities and the Tennessee Arts Commission to collectively receive approximately $2.25 million dollars from what has become one of the most popular specialty license plates sold in Tennessee.
The Titans Foundation distributes 100 percent of all funds received from the State of Tennessee to these 10 organizations listed below, with each receiving an equal 10 percent share:
Baptist Hospital Birthing Center
Boys & Girls Clubs of Tennessee
Boy Scouts
Camp Discovery
Fisk University Scholarship Fund
Girl Scouts
Jason Foundation
St. Jude Children's Research Hospital
Tennessee State University Scholarship Fund
Vanderbilt Children's Fund