**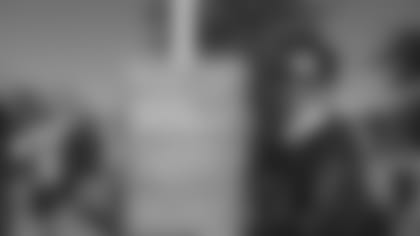 Titans fan Linda Simpson shows her support during the recent cell phone drive at LP Field.
NASHVILLE, Tenn. --** On the same day the team celebrated their first win of the 2009 season, the Tennessee Titans and employee-volunteers from AT&T Cares were encouraging fans to donate their unwanted cell-phones for recycling.
AT&T has shown a strong commitment to the environment over the past years and the "AT&T Holistic Recycling" donation drive is a reflection on that fact. Along with providing drop-off spots around LP stadium during game day, they have placed donation boxes in all 2,000-plus locations, nationwide, including all stores across Middle Tennessee.
For those who are unable to make it to one of the designated drop-off areas, they can download a free shipping label or free prepaid mailing envelope at www.att.com/recycle .
When asked about the donations that the fans were giving, Judy Morris, AT&T Area Retail Sales Manager, stated "We got a lot of phones today and we are really excited about the turn out."
She also added "This is a great event for all of us to join hands and to make a good impression on the whole community and the environment. We want people to recycle their phones because it saves a lot in the land fills and we really want to be green.
Nowadays, everybody has a cell phone, so let's do what we need to do by helping."
According to the Environmental Protection Agency (EPA), more than 100 million cell phones are discarded every year with all the precious metals, copper and plastics that they are made with.
AT&T's recycler estimates that recycling more than 14 million phones over the next three years would be equal to keeping more 920 tons of primary materials and more than 13 tons of toxic waste out of the landfills. Recycling that amount will also save enough energy to power more than 30,000 U.S. households.
Along with the focus on reducing the environmentally impact of discarded phones, AT&T has partnered with a military charity group to benefit our fighting men and women overseas.
"Cell Phones for Soldiers" is a not-for-profit organization that recycles used wireless phones to buy phone cards for military families. AT&T will match its 2008 recycling totals with the charity, year to year, through 2010, aiming to provide CPFS with $1 million in recycling proceeds in that time.
With an established commitment to helping our environment and our soldiers, both the Tennessee Titans and AT&T will continue to partner to work hard to accomplish their goals.