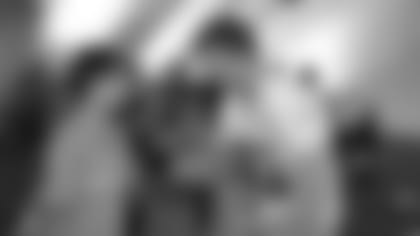 Titans kick returner Marc Mariani signs autographs during the team's annual Christmas party for DCS children Thursday at Baptist Sports Park.
NASHVILLE, Tenn. — The Tennessee Titans opened their house Thursday at Baptist Sports Park to 40 foster children from the Department of Children's Services.
The organization treated the children to a pizza party and invited them to watch practice, meet the players and get autographs. Donations from Titans owner K.S. Bud Adams, Jr., players, coaches, administrative staff and wives provided gift cards for shopping sprees and Titans goodie bags for each child.
Players, cheerleaders, T-Rac and other employees enjoyed hosting the youth, ages 8 to 14, and bringing smiles to their faces.
"That's what this is all about … just to see them so happy," Titans cornerback Alterraun Verner said. "I saw their faces and they were ecstatic to see us and just to see a real live football player. It's one of those things that you look forward to doing every year because you know that the little bit we do is going to be so big to them. Just knowing that, makes you feel good about it."
Titans cheerleader Tanzye, who benefitted during her youth from her foster parents, said she looks forward to the annual event each year.
"This is my favorite event with the team every year. It's really exciting to have this opportunity to give back to them," Tanzye said. "The proverb that I live by is, 'It takes a village to raise a child.' I truly believe that, so this is always my favorite thing to do."
Carla Aaron, executive director for child safety with DCS, said the children were excited to visit the facility and meet the team and Titans coach Mike Munchak.
"Some of our kids have never been to a professional football game, so it's really exciting to see them and watch them practice," Aaron said. "Of course, they love the gifts that the Titans so generously give to us. It's something that everyone looks forward to, kind of the highlight of Christmas because this is one of our special parties that we get invited to."
Aaron said the children look up to the players, and spending time with the Titans adds to the caregiver's role that the DCS provides for the children.
"Our kids, because they're in foster care, they are not with their (biological) parents, so filling that role of a parent or a caregiver is extremely significant, especially during the holidays," Aaron said. "Many kids want to be with their families, and for various reasons, they can't be. … This is an opportunity for them to meet famous people and feel really special."
Munchak complimented the Titans' Community Relations department for their work on hosting the event for the 11th straight year.
"It's been a good event every year," Munchak said. "Tresa (Halbrooks) and Bob Hyde do a great job of setting this up, and I think the players really appreciate it too. You can see what you're doing and how happy you can make some kids that are less fortunate."
Some of the children planned to use some of their gift cards to get Christmas presents for their family members.
"A lot of these guys or girls take the money and go get stuff for their family," receiver Damian Williams said. "I was talking to one little kid and asked him what he was going to do, and he said he would go buy his mom and his brother Christmas presents that he wouldn't get to do otherwise, so these kids have great hearts as well."
About Tennessee Department of Children's Services
The Tennessee Department of Children's Services provides foster homes, group homes and other residential settings to thousands of children in the State of Tennessee. They range from early school to teenage years and are awaiting a family to adopt them and provide supportive homes that meet emotional, physical and social needs.
More information about DCS is available by calling 1-800-DCS-KIDS or visiting www.state.tn.us/youth.