NASHVILLE, Tenn. – Jurrell Casey showed up in the team's locker room after Saturday's practice and found a surprise.
Above his locker, a Superman balloon was floating. It was a gift from his wife and mother, wishing him the best at the start of another training camp. The Titans defensive lineman had plenty to be thankful for on this day, especially after receiving a multi-year contract extension the day before.
"They wrote me a special note,'' Casey said. "It's great. I appreciate it."
The superhero's appearance was a welcome sight as well. There's a reason Casey has been spotted wearing a Superman t-shirt around Nashville.
"I love Superman, his character," Casey said. "Great guy, businessman out of the suit, and he takes care of business. But when he puts that suit on he is a man of the world, and I characterize myself after that. When I take my gear off I am a normal man out there taking care of business. But when I put (the pads) on it is Beast-mode, and that is what it is about."
Casey has taken care of business on and off the field for the Titans since 2011, and he was rewarded for it the day before camp opened. The Titans signed Casey to a multi-year extension Thursday, and it's a deal that could very well keep him with the team the rest of his career.
Casey said on Saturday he's extremely thankful.
"They trusted me to go out there and get the job done, and they trusted their bank account with me, so it means a ton," Casey said. "It just shows that I've been doing the right things around this organization and getting the job done for them. I am thankful the organization wants to keep me around for a long time. They believed I was worthy.
"Tennessee is my home, and I don't plan on leaving. At the end of the day, I'm going to be a Titan forever and that was my goal coming into this organization when I started. I didn't want to be a player that went from team to team or anything like that. I wanted to make sure that whatever team I went to, I wanted to be a life-longer and I did that here in Tennessee."
A third-round draft pick by the team in 2011, Casey has 467 career tackles, 33 career sacks and 106 quarterback pressures.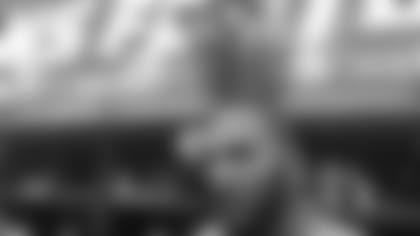 He's coming off a 2016 season when he recorded 51 tackles and five sacks, which earned him his second trip to the Pro Bowl. With five sacks, he became the first player for the team in the "Titans era" to register four consecutive seasons with at least five sacks.
In addition to his work on the field, Casey has also had a strong presence in the Nashville community. Casey was voted the 2016 Tennessee Titans Walter Payton Man of the Year, which recognizes players for excellence on and off the field. Casey has been a fixture as community events, and he also serves as the spokesperson for United Way of Metropolitan Nashville.
After the first day of camp, Casey said he knows he can't let up now. And he won't.
"They paid me," Casey said. "Now I've got to go live up to it. At end of the day, you can't take a break. You gotta go still earn that money."
The Titans have agreed to a multi-year contract extension with two-time Pro Bowl defensive lineman Jurrell Casey. (Photos: Gary Glenn)