**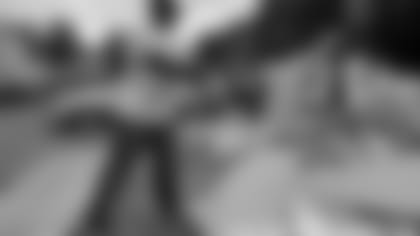 Vince Young was one of several Titans who volunteered in the massive cleanup efforts in Nashville.
NASHVILLE, Tenn. —** The flood-beaten ticket booth washed away from a resort and was carried miles across town by raging waters until it came to rest upside down in someone's backyard—until Vince Young and some of his Tennessee teammates arrived.
They broke it apart and carried the sodden chunks of wood up to the street to be taken away.
Skilled carpenters they're not. Strong with plenty of enthusiasm? Yes.
The Titans delivered Wednesday the help to flood victims promised by owner Bud Adams last week. The team took a break from their offseason program, and nearly 80 employees, coaches and players hit the streets a short drive from the Titans' offices. They didn't look that different from other volunteers throughout town wearing masks and sweating from all the hard work.
Donald Meadows, who lost his ticket to the 2000 Super Bowl and other Titans' memorabilia collected over the years when Richland Creek flooded his small home, didn't recognize them until he saw coach Jeff Fisher.
"I told him personally, 'Jeff I really appreciate it. Of all the places in Nashville you could've went … to come down to the low-rent district and help these folks, that's good,"' Meadows said.
The storms May 1-2 that flooded Tennessee killed 22 people with an early damage total for Nashville alone already at $1.5 billion and rising fast, not counting the devastation in 51 other counties. Adams donated $200,000 from his foundation last week with the NFL and the NFL Players Association matching that amount.
But the Titans worked with Hands On Nashville, the group organizing and directing volunteer efforts throughout the city, to identify an area in desperate need. That put them in this neighborhood that backs up to a usually low-lying creek almost lost in the shadow of nearby Interstate 40.
They arrived Wednesday morning and scattered across three different streets where they tore out drenched drywall, flooring, appliances and personal belongings destroyed when the creek filled homes with muddy waters May 2. Some, like Meadows and his family, escaped.
Young talked with one man whose wife and mother crawled up to the attic when the waters reached the doorknob to their home.
"Thank God they had an attic," Young said.
The Texas native remembers the damage to his Houston hometown from Hurricane Ike two years ago. Seeing the damage on Hite Street, Young said it's obvious a lot of help is needed.
"For Mother Nature to come take over your house and your home, it's a terrible thing," the quarterback said. "In the same time, you've got guys like myself putting out a lot of help to rebuild. That's good motivation to take your mind off the bad and get to the point of rebuilding and get your foundation back to where you want it to be at."
Defensive tackle Tony Brown was struck by how high the waters filled the houses as he took a break.
"It's just a shame that people lost so much so fast … People can't really prepare for it," he said.
The work wasn't without its dangers.
Receiver Lavelle Hawkins had a nail puncture his left shoe as he ripped at that ticket booth with a hammer. A sign identified the booth as serving ticket holders for the Grand Ole Opry and Opryland, parts of the Gaylord Opryland Resort, before being dumped in the yard by the flood.
Seeing the Titans' LP Field under water was an early sign of just how much the Cumberland River had overflown its banks. The Titans couldn't get to their offices downstream for days because local officials worried about a leaking levee had evacuated the area. But carp had been seen swimming in the parking lot before the area was closed off.
The Titans diverted most flood water away from a main level down to the field and have said damage at LP Field was minor. Fisher said the Titans were very fortunate considering how much had been ruined around town.
They had been waiting for the right time to head out to help, and Fisher said they went on a day off between two minicamp sessions. Most of the roster turned out, minus the rookies who can't join the team until next week.
The coach spent a few minutes talking with Meadows, a 48-year-old fan who lost a silver coin from the Titans' inaugural season in 1999 along with his other Titan's memorabilia. Meadows said he also lost some gold coins from his father during the scurry to clean all the rotting items out of his house.
"I probably spent an hour and a half in a closet, one closet in one home," a sweaty and dusty Fisher said. "And how many hundreds of homes are there here? So these people down here need the help."
---