**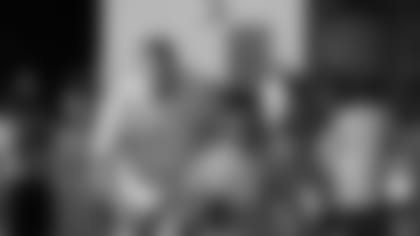 Titans head coach Mike Munchak and his staff hosted children from Backfield in Motion and the Special Olympics of Tennessee for a day of fitness and fun at Baptist Sports Park.
NASHVILLE, Tenn. --** The Tennessee Titans invited 200 guests from a pair of local non-profit organizations to participate in Titans PLAY 60 Day at Baptist Sports Park on Thursday. 
In conjunction with the NFL's PLAY 60 campaign, the day focused on promoting physical fitness and the proper nutrition in order to lead a healthy lifestyle.  The group participated in various football-related activities and was thrilled to be running drills at the Titans Practice Facility, Baptist Sports Park, with the entire Titans coaching staff on hand.
The Titans hosted youth from Backfield in Motion and athletes from Special Olympics of Tennessee for an afternoon of activity, dinner and a visit with Titans Head Coach Mike Munchak about the importance of leading a healthy lifestyle.
"It's great to be a part of the Play 60 initiative by the NFL, which encourages kids to go outside and play for 60 minutes each day," Titans head coach Mike Munchak said. "These guys started out a little slow, a little unsure, a little hot and feeling sorry for themselves, but at the end I think the all of them had a great time.
"You want to encourage the kids to keep doing this type of activity so it becomes a good habit for them when they become adults. I think we had as much fun as the kids had."
The on-field activities were directed by the Titans coaching staff and included a full warm-up and stretch with Strength and Condition Coach Steve Watterson and six stations highlighting football related drills.  Titans coaches gave instruction and offered encouragement to participants at each of the drill stations, meeting some of their biggest fans.
The children were thrilled to receive 1-on-1 instruction from Munchak and his coaching staff while getting to know the new roster of coaches.
"Our kids normally get more exposure with the players than with the coaches themselves," said Micah Kimble, vice President for Backfield in Motion. "They really enjoyed interacting with the Titans coaches. They were teaching the same values that we want for our kids -- hard work, dedication and commitment. I want to thank the Titans organization for bringing our boys out here and giving them such a great experience."
For children from the Special Olympics, it was an extension of what the Titans organization has already done for them.
"The Special Olympics started flag football a few years ago and the Titans were very instrumental, along with a few of the players, in helping us get started," said Alan Bolick, Director of Special Olympics for Tennessee. "It's the fastest-growing sport we have in Special Olympics today. For our athletes it's a dream come true to come here to Baptist Sports Park and get to work with the coaches. We're very appreciative of everything they've done for us."
The message of the Titans PLAY 60 Day went far beyond fitness, providing the youth with the skills necessary to be a better teammate and encouraging them to set and achieve goals in all aspects of life as they maintain a healthy lifestyle.  The Titans continue to promote the PLAY 60 message all year long, encouraging kids to get 60 minutes of active play every day.
About "Play 60"
The Titans "Play 60" initiative encourages youth to get at least sixty minutes of physical activity or play per day in effort to fight childhood obesity. Partnerships with local non-profit organizations, like the American Heart Association and the National Dairy Council, have enhanced this mission and opportunity to reach out to America's youth.  Since the NFL's Play 60 inception, the NFL has committed over $100 million to youth health and fitness through programming, media time for public service announcements and grants from Titans Owner K.S. "Bud" Adams' Jr., and his fellow NFL owners and players.  For more information about the NFL's Play 60 campaign please visit www.NFLRush.com