Following are excerpts from Ken Whisenhunt's media session at the NFL Scouting Combine. The above video contains the entire session.
TITANS HEAD COACH KEN WHISENHUNT
It's good to be here. I look forward to speaking with you guys.
(on how comfortable he is with the Titans' roster)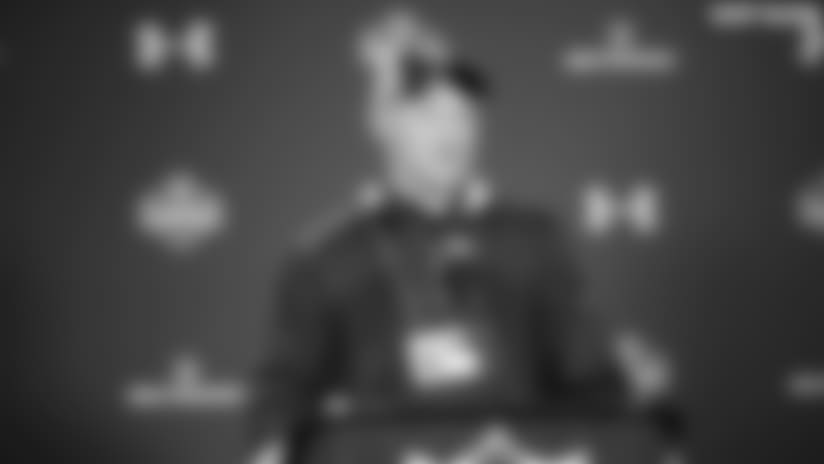 ](http://www.titansonline.com/media-center/photo-gallery/Titans-Photos-from-the-2014-Scouting-Combine/82dc0215-a859-4950-b3dc-76d05ffe59ef)
Titans coach Ken Whisenhunt answers questions during his media session at the NFL Scouting Combine. Click here for a slideshow.
I think there's a lot of pieces in place with our roster, but as with anything you're always looking for opportunities to improve. We're going through that process right now, which is what this part of it is here in Indy and we've got free agency coming up in a few weeks. I think, as always, you're looking for opportunities to improve but I'm encouraged with a lot of the pieces I've seen.
(on what he thinks are the Titans' biggest needs)
I don't know that yet. I think it's a process that you go through. There's a number of different components, the draft, free agency, trying to improve the team, but a big piece of it is when you actually get to spend time with them on the field. I mean, you can look at tape, but until you try to implement some of the things you want to do and see how you fit in that, that's a big piece of it. We'll have time from the number of OTAs and training camp. I think the biggest thing right now is trying to, overall, look at opportunities to improve our team.
(on his evaluation of the offensive line)
I thought, both sides of the ball, the line did a good job for the most part last year. I think we're young on the interior three, the center (Brian Schwenke) and the two guards (Andy Levitre and Chance Warmack) and that's a good thing, because if you're just looking at a team a big piece of it is your offensive and defensive line. We've got some youth there. We've got some players that have played well. I'm excited about seeing how they go from there. I think you're always looking at those areas to try to find players that can help the football team. I think we have some young players, some good pieces of the puzzle on both sides of the ball there.
(on what he knows about the AFC South)
Last year in San Diego, we played the AFC South, so you get a good feel for that. If you look at what happened in Kansas City last year, you never know how things are going to change from year to year. I have a lot of respect for this division. I've played teams a number of times here and we're excited, I'm excited about being in this division and competing.
(on Frank Reich becoming San Diego's offensive coordinator)
I think, first of all, Frank did a heck of a job last year in his role. There was a lot being said about the way Philip (Rivers) played and our staff did a great job, and Frank, especially from the standpoint of his input with the quarterback play and working on a lot of those things. I think he'll do a great job. I know he's prepared for it. He works very hard at it and he's a smart guy, played the position. I'm excited for Frank. He'll do a great job.
(on looking back at his six years as Cardinals coach and applying it to the next head coaching job)
I think you do that every year, not necessarily the six years that I was in Arizona. I was very grateful to have had an opportunity there. The fans were fantastic with me. Michael (Bidwell) gave me the opportunity in this league as a head coach and I'm very grateful for that. Sure, you learn things as you go through it. We did a lot of good things there and obviously, as happens in this league, if you lose your job, it's because things didn't go as well. You work to try to correct those things if you get another opportunity. I'm looking forward to having that opportunity.
(on Teryl Austin as Detroit's defensive coordinator)
Teryl is a good football coach. I've worked with him as an assistant in Arizona and I'm glad to see him get this opportunity. He's very passionate about the game. He's been in a number of different defenses and he's a sponge. He's learned things from everywhere he's been and I expect him to be very good in this league as a coordinator.
(on his impressions of Chris Johnson from film and what he "has left in the tank")
I can't speak about that. I know I see a player that's there every Sunday. He's had a lot of success in the league, done good things, been to Pro Bowls. You have a lot of respect for that. You can't speak to anything other than he practiced every day from what I've seen when you look at the records from last year and he played in a lot of games and he's been a good football player.
(on if he's asked about Chris Johnson the most or if there is a specific question he's been asked the most)
No, it seems like I get a number of different questions. I think a lot of people have questions about a lot of different things.
(on if he's "optimistic" that Chris Johnson will remain on the team)
Am I optimistic that he'll remain on the team? Well, it's a process that you go through with everybody on the team. This is a part of it, the draft, the combine, and then free agency. Putting together the team is not an exact science. We're under no deadline to do it. We still have a lot of things that we have to evaluate going forward. Chemistry is a big piece of it. We haven't even spent any time with our team yet. Like I said, there's no rush to make a decision.
(on if working with Jake Locker, who is more mobile than Philip Rivers or Kurt Warner, takes him back to working with Ben Roethlisberger, and how to exploit that part of Locker's skillset)
Well, from what I've seen, Jake exhibits a lot of qualities that you can get excited about. I think one of the strengths that we've done is trying to tailor what we do to fit the player and until we get on the field with Jake and see some of the things he can do, we don't know. You don't know which direction it's going to go, but I'm excited about what I've seen as far as those qualities that he's exhibited. I think the arrow is definitely going up, and I'm looking forward to working with him on the field.
(on if making defensive changes involves finding players that fit into a scheme or making a complete overhaul)
I mean, I think you're always looking for players and then you'll fit them into what their strengths are. It's not specifically, as you say, 'looking to fit a defense or making a complete change,' we're looking for good football players. We've got some good coaches but ultimately what we do defensively and offensively is going to be a function of the type of players that we have. You've got to have that flexibility.
(on what he sees from Michael Sam on film)
I haven't really studied him, but if you're co-defensive player of the year in the SEC, that's a dog-gone good conference, so he's got to be a good football player.
(on a health update of Jake Locker and how important it is to have him return to action to set the identity of the team)
Well, Jake is obviously working to get back. I don't know a specific timeframe of when he can come back. We're anticipating that we'll have him to be able to work in the OTAs as we go forward. You want to have him involved with that because, like I said, working with your team is an important piece of it, so we're hoping the rehab schedule will continue on the pace and we'll have him.
(on how much input he takes from coordinators with regard to draft picks)
Well, I think it's a team effort. Obviously Ruston and his scouts have put in a lot of work with these guys. I think coaches are a little bit behind the curve because they've been working on the season, but they get involved with this process now. This is an important piece of it at the combine because you get a chance to spend some time with these players. You can evaluate what they do from the standpoint of height, speed, weight, all those kinds of things, but when you get a chance to sit down with them and see where their football knowledge is and a lot of those things that are the intangible part of it, that's a big piece of it. Once that's done, we all sit in a room and talk about it and work to get it right on these players.
(on if Chris Johnson is back or not, if Shonn Greene will have a bigger role next year)
I think that's going to be up to Shonn and how it proceeds through the OTAs and training camp. I like what I've seen of him off the tape. I had a lot of respect for him before he came to Tennessee, just from the way he played.
(on what it's been like to work with new Titans President and CEO Tommy Smith)
Tommy's been great. His knowledge of the game has been very impressive. Not (previously) knowing much about Tommy Smith, I didn't realize how involved he'd been in football for so long and just his depth of knowledge about players has been very impressive but one of the things I'm really excited about is his direction that he wants to go with the team. He's committed to wanting to put a good football team out there, and everything he's shown to this point to me has been outstanding.
(on working with young quarterbacks and finding ways to fit them into a system)
I think you've got to try to assess what they do well and put them in situations where they can capitalize on them. I was asked a question about non-mobile versus mobile guys and I think there's different things you can do with different players and you try to, once again, assess their strength. One of the things with Jake is he's been very mobile, so is that going to be a piece of it? Well, those are things you don't know specifically until, I hate to keep going back to it, but until you get to spend time with them on the field. I think you go through the process, try to give them as much as you can give them and evaluate what you feel like they're good at and try to put them in situations where they can be successful. It sounds like an easy process. I hope it turns out that way.
(on how important is maturity at quarterback)
There's all different kinds that have had success in this league. I think chemistry is a big piece of it and how it fits into your football team. That position, there's a lot of inherent leadership that goes with it so a lot of the qualities you look for, those guys naturally have, so really it comes down to their fit and what they do well and really trying to capitalize on those (things).
(on if you can learn anything about how a player will react to pressure situations on the field)
I think it's all part of the evaluation process. You can't put all your eggs in one basket, but it is a part of the process.