**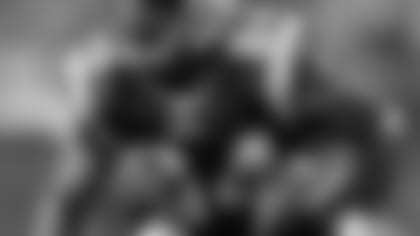 WR Randy Moss became a Titan after being awarded to the club off waivers today.
NASHVILLE, Tenn. -**  The Titans felt that Randy Moss was just too good to pass up twice.
After skipping Moss in the 1998 draft, Tennessee claimed him off the waiver wire Wednesday.
"Timing is everything,'' coach Jeff Fisher told The Associated Press on Wednesday night. "I really think the quicker we get him on the field, the longer he's here, the more productive he'll be. We think that he can help us, and I'm looking forward to seeing him run under those deep balls.''
The Titans didn't seem to be the front-runner to get Moss, ranking 23rd among NFL teams in the waiver system. But Tennessee was the only team to put in a claim on the talented, but much-traveled wideout.
Concerned about Moss' characer in 1998, Tennessee, then the Oilers, drafted Kevin Dyson with the 16th pick overall instead.
Fisher said the Titans did their "due diligence'' on Moss. That included talking to Moss and former teammates like current Titans backup quarterback Kerry Collins. Fisher said Moss was excited about the move, and the NFL's longest-tenured coach with his current team isn't concerned about how the 13-year veteran now with his third team this season.
"Randy's been a good teammate, and he's very popular. I think this is a great opportunity for him. It's a fresh start,'' Fisher said. "We've got a great locker room. They'll accept him. I'm confident he'll accept his new teammates as well.''
Moss can help the 5-3 Titans, who are a half-game back in the AFC South with five divisional games remaining. They have lost their last two playoff games, and Fisher said Kenny Britt, who hurt his right hamstring in last week's 33-25 loss to San Diego, will miss the Titans' game Nov. 14 at Miami.
They hope to have Moss in sometime this weekend during the Titans' bye. Their last practice is Thursday, and players won't be due back until Tuesday.
"Randy's excited to get back playing football,'' agent, Joel Segal said. "He's ready to go and looking forward to get there.''
Moss already is being welcomed.
Safety Michael Griffin tweeted "welcome Randy Moss'' and All Pro running back Chris Johnson had been lobbying for the Titans to pick up Moss as well. Johnson shares the same agent as Moss and had been telling Segal how much he wanted the receiver in Tennessee.
"Why do we need Randy Moss?'' Johnson said Wednesday, before the move was announced. "You can't put eight in a box if you got Randy Moss out there on the outside. If you've got Randy Moss out there, you just can't play him one-on-one. I feel like Randy would be a great addition to this team, be a great addition to our receiving group and really help us go deep in the playoffs.''
That's what matters most for the Titans.
Owner Bud Adams turns 88 in January, and this franchise's lone Super Bowl berth was way back in 2000. The Titans lost a wild-card playoff game in San Diego in the 2007 season and wasted the No. 1 seed and home-field advantage in 2008 with a divisional round loss.
Britt has the NFL's best game receiving this season with his 225 yards and three touchdowns Oct. 24, and Vince Young currently is the NFL's top rated passer at 103.1. But the Tennessee passing offense ranks 24th, averaging 187.6 yards per game.
"Randy is obviously a Hall of Fame player and has the ability to be a difference maker for our offense,'' Titans general manager Mike Reinfeldt said.
Nate Washington said before the waiver deadline that he didn't think the Titans needed Moss, defending the group of young receivers who have been working hard. He said Moss would be welcomed, but Washington is the receiver most likely to slide out of a starting spot once Britt's hamstring heals up.
This move will allow the Titans to put the 6-foot-4 Moss on one side with the 6-3 Britt on the other.
"I welcome him with open hands,'' Britt said. "It's a guy I can learn from being another receiver ... and he can definitely help with our offense.''
Moss is a relative bargain due about $3.34 million for the final eight games this season. He easily brings the best resume of any receiver for this team since leaving Houston. He has 948 career receptions for 14,778 yards and 153 touchdowns, though his numbers have dipped drastically this season in his stints first with New England and then Minnesota.
He has 22 catches for 313 yards and five TDs in eight games. In his four games with Minnesota, he had 13 catches for 174 yards and two touchdowns with the Vikings losing three of those four games to drop to 2-5.
Collins played with Moss for a year in Oakland, and he said before the waiver deadline that he never had a problem with the receiver.
"He was professional, respectful, he was a team guy,'' Collins said. "I think a lot of the stuff that you see and hear gets overblown. The guy speaks his mind. He's very truthful with what he says and that doesn't always play well. He was a great teammate.''
NOTES: The Titans placed LB Jamie Winborn on injured reserve to clear a roster spot for Moss.