**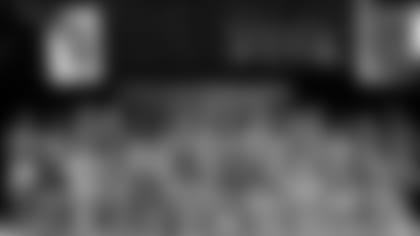 The 2011 Tennessee Titans Cheerleaders
NASHVILLE, Tenn. --** A capacity crowd at the Wildhorse Saloon witnessed the formation of the 2011 Titans Cheerleading squad Tuesday night.
The final auditions, presented by Sun Tan City, were the culmination of a process that began nearly two months ago. The evening began with 46 finalists and ended with 26 ladies making the 2011 squad.
"I am thrilled with the team we have in place for the 2011 season," said Stacie Kinder, director of cheerleaders for the Titans. "The competition was fierce, but the judges did an excellent job choosing the best of the best."
A panel of celebrity judges that included recording artists Laura Bell Bundy and Chuck Wicks, producers Keith Stegall and Michael Knox, CMT's Allison DeMarcus and author/speaker Louis Upkins graded contestants on their appearance, physique, dance ability and fan applause.
In addition to the finalists from Tennessee, the 26 ladies have a diverse background from a variety of states, including California, Virginia, New York and Florida, among others.
"We have a diverse and successful rookie class with careers ranging from high school chemistry teachers to PHD candidates at Vanderbilt University, to former professional figure skaters," Kinder said. "We are excited for our fans to get to know them."
Kinder was pleased with the largest turnout in the history of the event.
"Our numbers have increased each year, but this was by far our largest turnout ever," Kinder said. "we are thrilled with the number of fans that came out to support us and look forward to giving back to the greater Nashville community this coming season."
Fans can order a DVD of the final auditions for only $20 by visiting www.jamvideo.net. Click HERE to place your order!
2011 TENNESSEE TITANS CHEERLEADERS
Amber R.
Amber S.
Angie
Anne B.
Anne P.
Ashley
Brianne
Brintley
Brooke
Chocez
Clair
Erica
Jalanda
Janae
Jena
Jessi
Jessica
Molly
Stefanie S.
Stephanie A.
Stephanie B.
Stephanie S.
Stormi
Tanzye
Tiffany
Yalea