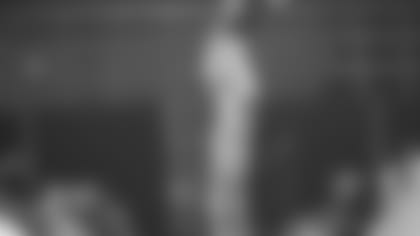 Titans cheerleader Brooke models her swimsuit during the calendar release party at Cabana.
NASHVILLE, Tenn. — The Titans cheerleaders celebrated the release of their 2012 calendar in chic style Tuesday night with a meet-and-greet, fashion show and autograph session at Cabana in Hillsboro Village.
The night allowed the 25-member squad to showcase the swimsuits that appear in this year's calendar, and celebrate the collection of spectacular images taken by Nashville photographer Erick Anderson with fans, friends and family members.
"We are so excited to be at Cabana again for our third year," Titans Director of Cheerleading Stacie Kinder said. "(Cabana General Manager/Owner) Craig Clift has done a really amazing job, pulling out all of the stops, letting us come back and host this event again for a sell-out crowd."
The release party is well-deserved, considering the amount of preparation and planning that go into the success of the calendar.
Brooke, who adorns the cover and is one of the squad's captains this season, said sunrise shoots involve waking up at 2 or 3 in the morning in order to have hair and makeup ready for the great window of lighting conditions that occur at dawn. Sometimes, she said, the squad took pictures at sunset, which is her favorite time. 
Brooke said the four-night, five-day photo shoot at Cottage Rental Agency in Seaside, Fla., was "awesome" because of the welcome the Titans cheerleaders received and because of the time they were able to spend with each other as a team.
"It was amazing hospitality and the beach was beautiful," Brooke said. "We were really happy with that destination, and hopefully we can go back there again."
In addition to the long days during the photo shoot, the cheerleaders commit hours of fitness training and careful selection of their favorite swimsuits.
"We picked out swimsuits and met with our photographer and did a lot of great preparing before we got there," Brooke said. "You have to find something that you really love yourself in, and that our coach loves, and the photographer likes and goes with whatever setting that we're taking our pictures in."
Chocez, who is in her fifth season on the squad, said the trip to Seaside was a "beautiful experience" because of the location and the excitement level among the team even during the early mornings.
"It's where they filmed The Truman Show, and they told us all about that," Chocez said. "You're so excited in the first place, you're nervous, you don't want to miss it and you want to look your best so you probably won't get much sleep. The energy in the hair room and the makeup room—everybody's just so excited that it doesn't even feel like four in the morning."
Kinder said this year's team has 10 rookies out of its 25 members, so it was important for the team to bond while they were on location. She said the ladies did so through activities like a scavenger hunt and by staying in small groups at the cottages.
While the ladies are able to select their swimsuits, there is some teamwork that goes into producing the timeless images.
"Everyone gets to show their individuality while showing a team unity at the same time," Kinder said.
Although this is Brooke's sixth season with the squad, there are still pleasant surprises along the way.
"When I saw the cover, at first, I was in shock," Brooke said. "They put it up on the big screen and I was expecting it to be maybe a group shot. I was really excited about it."
Kinder thanked Titans owner K.S. "Bud" Adams, Jr. for his support of the annual calendar and the fans who appreciate it.
"It is wonderful to have a swimsuit calendar, and I'm so thankful to Mr. Adams for supporting our calendar every year," Kinder said. "Our football fans love our calendar and we're so happy to put it out for them every year."