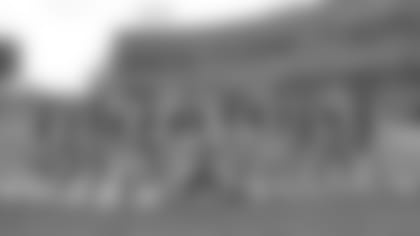 Nashville, TENN -** The Tennessee Titans Cheerleaders were very busy this holiday season participating in holiday events around the Nashville community. Most of the holiday appearances were associated with local non-profit organizations and focused on helping others enjoy the holidays. The Cheerleaders volunteered their time at the following holiday events:
The Academy Sports "Shop with a Titan" for underprivileged youth; The David Thornton, Titans Linebacker, Shopping Spree for low-income families at Dick's Sporting Goods; The Cortland Finnegan, Titans Cornerback, Christmas Dinner, hosted for families of the Special Olympics and the Leukemia Lymphoma Society; The Franklin Boys and Girls Club Christmas Party; The Titans Christmas Party for Nashville Foster Kids, and the Rudolph Red Nosed Run to benefit Big Brothers of Nashville. Cheerleader Ashley A. participated in the Academy Shopping Spree. She loved the event, stating, "It was great to help the kids shop for their families and remember the true meaning of the holiday season."
In addition to non-profit work, the cheerleaders also had the opportunity to participate in several Christmas themed entertainment events around the city. The cheerleaders spread Christmas cheer at the Nashville Christmas Parade, the Liepers Fork Christmas Parade, the Acoustic Christmas Concert with 107.5 The River, and the Christmas Carnival in Hendersonville.
Finally, the cheerleaders ended the holiday season with a Christmas party of their own where members were honored for their contributions to the team and the community. The Rookie of the Year award went to Danielle, for her positive attitude and contributions to the squad during her first season. Additionally, while Danielle was the best rookie, Valerie won the Lifetime Achievement Award for her 8-year career as a Tennessee Titans Cheerleader, showing her dedication to the Titans and the squad. Similarly, Tonia won the Cheerleader of the Year award as a 6-year cheerleading veteran and this year's Pro Bowl Cheerleader. Finally, Lindsey won the Community Service Leader award for her many commitments and efforts to help others in the Nashville community.
All the women on this season's Tennessee Titans Cheerleading Squad truly enjoyed the 2009 holiday season, which finished with a home Titans game on Christmas Day. Stacie Kinder, Director of Cheerleading for the Tennessee Titans explains, "The holiday season is our favorite time of year! We love being part of the community and spreading Christmas cheer. It is truly wonderful to give back to the fans that support us!"