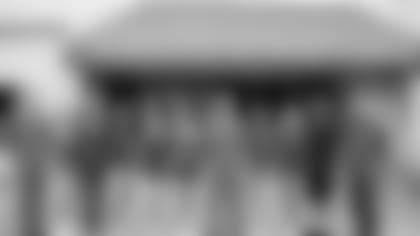 Stefanie and Chocez represented Titans Cheerleaders during a recent trip to Diego Garcia, supporting U.S. troops that provide operational support in the Persian Gulf.
NASHVILLE, Tenn. -- Titans Cheerleaders, Stefanie and Chocez returned home to Nashville on Saturday after touring our U.S. Navy Support Facility, Diego Garcia, for the All-Star Super Bowl Tour. 
Unknown to most Americans, Diego Garcia is an island located in the Indian Ocean where the Navy provides logistical support to U.S. operational forces in the Persian Gulf.  Stefanie and Chocez joined cheerleaders from the Bills and the Texans, along with Vargus Mason, a comedian and Chris Ruggero, a magician, to offer entertainment and camaraderie to these sailors stationed thousands of miles away from any other Americans. 
The facility is so far removed that families of the troops stationed at Diego Garcia are not allowed access to the base.  Stefanie and Chocez flew via military transit to the island after ending the commercial leg of the travel in Singapore.
The cheerleaders learned about life on the island for American soldiers, dined with them each day, and created a festive atmosphere for the Super Bowl, complete with a performance at halftime.  However, due to the time change, the Super Bowl began at 3:30 a.m., with the halftime performance at 5 a.m.
Cheerleader, Stefanie said she felt privileged to be chosen for this tour.
"You can't get any more American than the NFL," she said, "and I think we brought a little bit of home to the troops there for a week."
Two days following the Super Bowl, Stefanie and Chocez flew back to Singapore where they spent the final three days of the tour at the Navy Region Center Singapore, the U.S. Navy's gateway to Southeast Asia. 
Finally home, with severe jet lag after a grueling 27 hours of flight travel, Stefanie maintains that she wouldn't change a thing.  "Nothing is more amazing than going overseas and witnessing first-hand the dedication, bravery and self-sacrifice of our nation's troops," she said.
The All-Star Super Bowl tour was sponsored by the AFE (Armed Forces Entertainment) and managed by ProTour Productions, a company which brings professional entertainment to military bases worldwide.