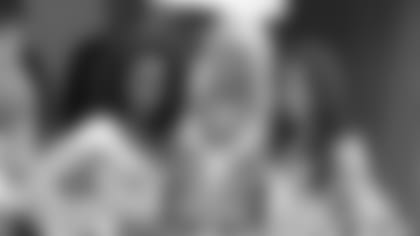 Whoever said cheerleaders weren't smart was seriously mistaken. 
Melissa, Alyson, and Jennifer recently took a trip to our nation's capital to teach young girls that being a cheerleader and a scientist is cool! 
Each cheerleader received a science uniform and performed for the thousands of science enthusiasts who came to meet the eleven women -- from across all professional cheerleading leagues -- who have bridged the gap of cheerleader and science. 
While at the *USA Science and Engineering Festival, *the ladies performed, signed calendars and met with young girls who also aspire to become a cheerleader turned scientist.
She is now working in research at Vanderbilt with the neuroimaging group, specializing in PET, fMRI, and fat-water imaging. 
Previously, Melissa worked in a molecular neuro/psychiatric lab for two years at Vanderbilt.  Melissa says that she was first inspired to study science by her pediatrician at a young age.  Her future plans include continuing her education as a graduate student as well as furthering her path as researcher.  She is also considering medical school, pharmacy school, or various PhD programs across the country.
Joining Melissa at the festival was Titans Cheerleader, Alyson, a Belmont University graduate with a BS in biology and chemistry.  Currently, she is waiting on her acceptance into medical school. 
Alyson also volunteers all around Nashville, partnering with different physicians and learning more about the medical field. Alyson began her love of dance and science at the age of 4. 
Although she has come a long way in both of her careers, the world of medicine will be her ultimate career path. 
About the festival, Alyson said, "I was honored to be a part of such an amazing group of women who are all interested in science, and also are from the NFL, NBA and other professional dance leagues. Volunteering at the USA Science and Engineering Festival as a Science Cheerleader has allowed me to combine two major passions of mine: dance and science, in hopes to inspire others. By speaking and advocating our campaign to break stereotypes with science and cheerleading, I encouraged many young girls to pursue science related studies in the future, even if the cheerleader side of them says no."
Jennifer, a Tennessee Titans Cheerleader Alumn and 2007 Pro Bowl Representative, is another 'cheerleader turned scientist.' 
As an engineer at Nissan, she finds her passion in heat transfer and physics.  While Jen navigates the professional world of engineers, she says, "Telling other engineering professionals that I was a cheerleader for the Titans always gets a great reaction during ice-breakers at industry events."
The Tennessee Titans Cheerleaders are much more than just "sideline distractions."  All three of these women are continuing to make the team proud as they pursue their dreams both on and off the field.