NASHVILLE, Tenn. —** Tennessee Titans Cheerleader Jalanda's talents came to the forefront of the squad's 2013 calendar.
Jalanda, who is in her second year on the squad, is joined by Angie, Ashley P. and Molly in designer suits that Jalanda created from old Titans jerseys and pants. Jalanda said she was honored to be one of the cheerleaders on the cover, but the opportunity to apply her skills and design the suits at the request of Titans director of cheerleading Stacie Kinder increased that feeling.
"I worked really hard in fashion design school and kind of got displaced a little bit by moving to Tennessee and didn't know where my fashion could go," Jalanda said. "So to be able to design and make something and have it on the cover of a calendar, it's by far the most exposure I've had in my career so far. It's amazing."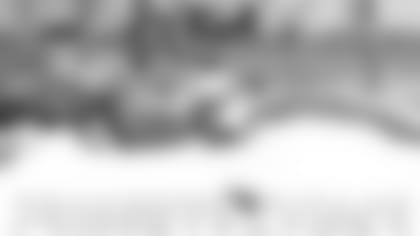 ](http://www.titansonline.com/cheerleaders/merchandise.html)
The cheerleaders showcased this year's calendar for the first time Thursday during the sixth-annual release party at stylish Cabana restaurant in Hillsboro Village. All 27 cheerleaders modeled the suits in which they appear in the calendar in a runway fashion show setting, then autographed calendars for fans.
Kinder said Jalanda's background in fashion design enabled her to produce uniquely customized suits.
"Jalanda is a graduate of Parsons School of Design in New York, which is very prestigious," Kinder said. "Having seen some work that she had already done, I knew I wanted some very Titans-specific suits and I asked her if she thought she could make them out of some football pants and some jerseys that were old, and she said, 'Yeah.' I gave her basically four jerseys and four pairs of pants and that's what she did. It was really amazing, and we couldn't be prouder of her."
Kinder asked Jalanda about three weeks before the cheerleaders shot the calendar in late May and early June at the Emerald Grande resort that is part of the HarborWalk Village development in Destin, Fla.
"She kind of sent me the designs, and I said, 'This looks great. Go for it,' and she brought them in and it was almost like magic," Kinder said. "She is so uber-talented and I feel blessed that she's on our team and could do that for us."
Cheerleaders have given input in the past regarding uniforms, but Kinder said this is the first time that a team member has designed and made a suit, adding it was "like Project Runway goes Titans."
Jalanda and Angie said their teammates did a good job getting ready for the photo shoot and made it an enjoyable experience that yielded a top-notch product.
"The photo shoot this year was amazing," Angie said. "We were proud guests to stay at HarborWalk Village Emerald Grande, and it was absolutely beautiful. We got together as a team; we had a lot of fun. We worked really hard, and I think this year you're going to see that our photos are even better than last year and the years before, which we didn't even know was possible, so we've worked really hard and we've got a great product because of it."
Erick Anderson once again shot the photos and designed the calendar, finding a spot for all 27 cheerleaders. Anderson said the setting for the photo shoot offered unique backgrounds that helped distinguish the photos.
"The squads have always been great," Anderson said. "They're not full-time models, but to come out and do a swimsuit shoot when you're not a full-time model is a nerve-racking thing, but we have such a great time that their beauty and their personalities come out, and this year was probably my favorite location. We had our own private beach with rocks and sand dunes and just anything a photographer can dream of for a shoot like this. The squad was just so amazing and they're such great personalities. We had so much fun, and I think it shows in the photos."