NASHVILLE, Tenn. — Chance Warmack got his wish, and the Titans got their man.
Warmack, a guard from Atlanta who was an integral player on the University of Alabama's three national championship teams in the past four years, became the newest Tennessee Titan when he was selected with the 10th overall pick Thursday.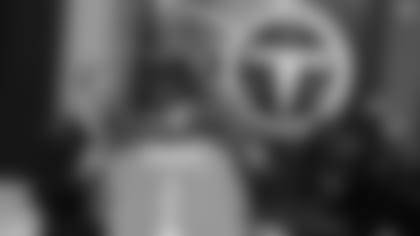 ](http://www.titansonline.com/media-center/photo-gallery/1st-Round-10th-overall-Chance-Warmack/62e1fb36-5eb0-4d83-93d0-f48c1e3313e8)
Chance Warmack became the first offensive lineman to be drafted in the first round of the NFL Draft by the Titans/Oilers franchise since tackle Brad Hopkins in 1993. Click here for a slideshow.
"We're obviously very happy to have drafted Chance Warmack with the 10th pick in the first round," Titans general manager Ruston Webster said. "He's a player we had a great consensus on and all liked and put a lot of work into this offseason. … Chance was our guy all along."
The 6-foot-2 Warmack said he's currently tipping the scales at about 325 pounds but felt like he was "floating" shortly after his selection. He had made no secret during the interview process that he'd like to play for a head coach (Mike Munchak) and position coach (Bruce Matthews) that were drafted with top 10 picks as guards and had Hall of Fame careers.
"It's a dream come true," Warmack said. "I was definitely thinking, 'What would it be like if I actually did play for Tennessee,' and here we are."
Technically, Warmack was at Radio City Music Hall in New York Thursday, but he's scheduled to arrive at Baptist Sports Park Friday.
With nine spots ahead of their pick in the draft, Titans executives prepared for dozens of scenarios that created hundreds of variables. Warmack said he thought he might go anywhere between the seventh and 18th picks and wondered how the events would unfold.
"A lot of things were going on in my head," Warmack said. "The pressure was starting to get to me, and I just spent time with my family and kept an open mind, and everything happened the way I wanted it to."
Warmack became the first offensive lineman drafted in the first round by the Titans/Oilers franchise since the Houston Oilers selected Brad Hopkins (13th overall in 1993). He joined Munchak (picked eighth in 1982) and Matthews (selected ninth in 1983) as the only guards in franchise history to be selected from one of the top 10 spots.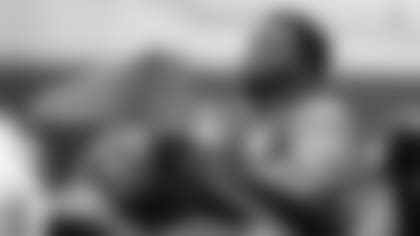 Titans coach Mike Munchak and offensive line coach Bruce Matthews arranged a workout between Chance Warmack and D.J. Fluker prior to selecting Warmack from the 10th spot in the 2013 NFL Draft.
Warmack was so interested in playing for the Titans that he and former Crimson Tide teammate D.J. Fluker, a tackle who was selected by San Diego one pick later, participated in a special 90-minute workout for Munchak and Matthews where he said "they put me through the wringer."
Munchak played all 12 of his pro seasons with the Oilers, and Matthews played all 19 NFL seasons with the Oilers and Titans. Munchak joked that he hopes Warmack will play somewhere between the two in Titans two-tone blue.
"Bruce and I met him at the (NFL) Combine and went down to the Alabama campus and worked him out," Munchak said. "We had a chance to spend a lot of time with him and work him out, and wore him out pretty good and then watched the tape together. In the NFL, you don't see the kind of power he has and the way he moves the line of scrimmage. To me, he's the complete package. He loves the game and has a passion for it."
Matthews said he looked for every reason to demerit Warmack's abilities during the workout in Tuscaloosa, but the player responded to the challenge.
"Really, for me, I go in very skeptical on linemen that I've heard about because typically they're a product of the team they play on, you know, Alabama having such a great tradition and (being on) such a hot streak that you kind of think they've got a bunch of other guys on the team that are pumping him up," Matthews said. "I went in very skeptical, wanting to shoot him down at every turn, and really, I think what sold me on him was every time I was with him, I got excited about the opportunity to watch him play and coach him.
"I'll echo everything Munch said," Matthews continued. "He has the demeanor and the mindset and plays a style that we're looking for and want to accomplish up front. Again, like I said, even today, just to confirm it I went back and looked at the tape again and am very confident that he as a great opportunity to be a real good player in this league for a long time."  
Titans running back Chris Johnson liked the pick, tweeting "THANK GOD" after NFL Commission Roger Goodell announce the pick.
Warmack is expected to play right guard opposite left guard Andy Levitre, a 2009 second-round pick who has started all 64 pro games of his career and joined Tennessee as a free agent in March.
Warmack made franchise history by being the first player ever chosen from the 10th spot in the NFL Draft and was part of a league-wide record five offensive linemen drafted in the top 10.
"It's a wonderful experience, just to be part of this draft class where linemen are getting drafted so high," Warmack said. "It's unbelievable. I don't think it's ever happened in a draft before, and I'm just happy to be part of it."