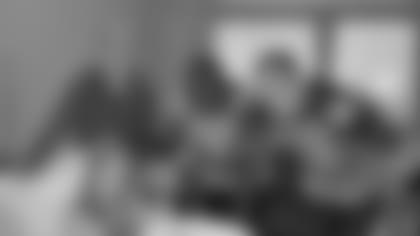 Defensive linemen William Hayes (95) and Dave Ball (98) were among the players visiting patients at Baptist Hospital this week.
NASHVILLE, Tenn.  –** Titans players enjoy reaching out in the community throughout the year to personally thank the best fans in the NFL.

One way they show their gratitude is through Titans Tuesday, in which players go out and visit both hospitals and local schools during their only day off of the week in the regular season.

This week the defensive linemen came through to lift spirits.  Dave Ball, William Hayes, Jason Jones and Sen'Derrick Marks visited Baptist Hospital to brighten the day for patients, families and staff at the hospital.

The players went from room to room visiting with patients, signing team posters, taking photos, and offering words of encouragement.

"The hospital visits are a favorite of mine, especially the newborns," said Hayes.

Hayes took special note and asked lots of questions since he is expecting a baby of his own in March.

The Titans visit did not go unnoticed by Baptist Hospital staff.

"To see the excitement on the patients' faces when the players come through the door is worth the weight in gold," one of the charge nurses said.  "It makes the rest of the day for the patient so much better."

Titans Tuesdays is an excellent way to make a difference in the lives of patients, while saying thank you to many of our great fans.