**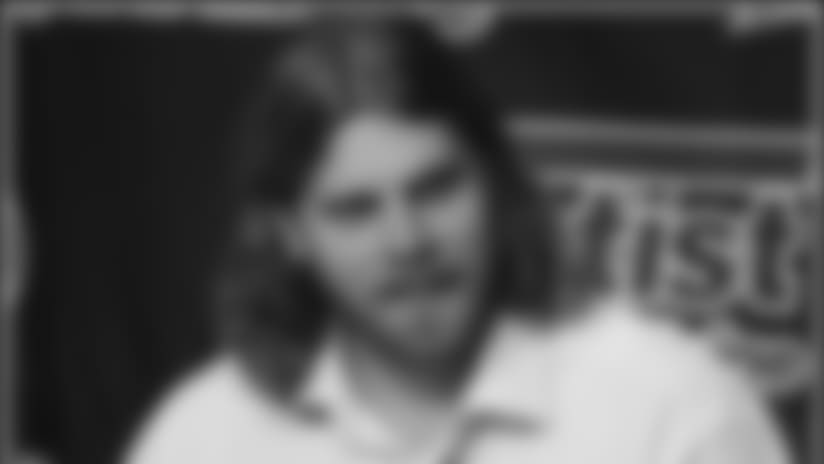 The newest member of the Titans, Jake Scott started in 57 of 60 games for the Indianapolis Colts from 2004-07.

NASHVILLE, TN, March 10, 2008 –** The Tennessee Titans have agreed to terms on a multi-year contract with offensive lineman Jake Scott, an unrestricted free agent from the Indianapolis Colts.
"Jake is an intelligent and fundamentally sound player," said Titans General Manager Mike Reinfeldt. "He is a technician at the position who rarely makes mistakes, and he has enough versatility to play either guard spot."
In four seasons with the Colts, Scott (6-5, 295) played in 60 total games with 57 starts, including a current streak of 55 consecutive starts. All but four of his starts came at right guard. He also filled in at right tackle (three starts) and left guard (one start).
Additionally, Scott has eight career playoff starts, all at right guard, including every game during the Colts' run to a Super Bowl XLI Championship at the conclusion of the 2006 season. In 2007, Scott started every game for the third consecutive year and was a member of the NFL's fifth-ranked offense.  The Colts gave up the seventh-fewest sacks in the league (23) and featured a 4,000-yard passer (Peyton Manning, 4,040 yards) and a 1,000-yard rusher (Joseph Addai, 1,072 yards).  

Scott helped the Colts finish in the NFL's Top 3 in total offense and rank first in the league in fewest sacks allowed in each season from 2004-06.
A fifth-round selection (141st overall) in the 2004 NFL Draft, Scott was a four-year starter at right tackle at the University of Idaho prior to starting his professional career.  He is a native of Lewiston, Idaho.
 
**JAKE SCOTT PRESS CONFERENCE
 
(opening comments)
 
Mike Reinfeldt:* I want to thank everyone for coming today.  At this point in time, we'd like to announce that we've agreed to terms with Jake Scott.  We're very excited.  He's going to bring versatility, tenacity, toughness, and he'll be a key member of our offensive line going forward.  So we're very excited today.  With that, I'll turn it over to Jeff.
 
(opening comments)
 
Jeff Fisher:  *Thanks, Mike.  You know, we are very familiar with Jake, having played against him twice a year for a number of years.  Really, we were surprised that Jake was going to be out there, and when things didn't work out with Jacob (Bell) from a timing standpoint, we felt that Jake was the best guy for us to fill in, to become obviously an immediate starter.  We are very, very impressed with how he plays, and we see this as an opportunity to get better up front.  You know, we've got a little bit of uncertainty as far as Benji (Olson) is concerned.  We're going to give Benji some time to sort things out, but with the departure of Jacob, we've got Jake now under contract.  We'll in due time decide what side he plays, left or right.  He's actually played a little bit on the left side earlier in his career.  He's very, very good on the right.  We'll just kind of sort those things out depending on what Benji decides to do.  So we feel like, all in all, that we've really upgraded our offensive line.  We just have a great deal of respect for what he's done and how he plays and the high level with which he plays, play after play after play.  With that, we'll open it up to questions.
 
(on playing different positions on the offensive line)
 
Jake Scott: It's never been a big issue for me to move from one position to another.  Throughout college I played both sides.  We played on a line where we flipped sides, so I played both right and left going through college.  And I played a little bit of left guard while I've been in Indy. To me, it just really isn't much of an issue.
 
(on if he talked to other former Colts that are on the Titans)
 
Jake Scott:* I definitely asked people.  I tried in the time between the end of the season and the start of free agency, I asked everybody I could – not just with the Titans, but everybody I knew – about different teams and organizations and who liked what organization or coaches or cities.  It seemed like everybody I talked to that had been here or is here loved being here.  It was very promising just to hear that stuff.
 
(on whether it came down to Indianapolis not having enough money left to sign players)
 
Jake Scott: *That was kind of the bottom line. It came down to signing some other people, and there just wasn't enough money to go around.
 
(on the adjustment of protecting a pocket passer like Peyton Manning and then protecting a mobile quarterback like Vince Young)
 
Jake Scott:* Well, hopefully if I'm doing my job he won't have to get outside the pocket too much.  But I don't think it's really going to change a lot of what I do.  I guess I haven't really gotten into talking about the schemes and the game plans.  I guess we could probably have the potential to move the pocket a little bit more with some roll-outs, but it doesn't change anything as far as technique.
 
(on not having to block Albert Haynesworth twice per year)
 
Jake Scott: *Well, that's one of the benefits of coming down here.  You don't have to worry about that.  That's a good thing, to be able to have those guys on the other side of the ball and have a great defense to go with what I think is going to be a great offense here to help us win a bunch of games.
 
(on how much he will miss Indianapolis)
 
Jake Scott: I did have a lot of great years, and I have some good friends there.  You know, I'll miss it, but it's time to move on.  It's part of the business.  That's the way football is. You've got to move on when the time is up.
 
(on blocking for Peyton Manning when he's making calls at the line of scrimmage)
 
Jake Scott: You practice it, and you listen to it.  That's just the way we ran the offense in Indy, so it's just part of the system.
 
(on Scott fitting into the offensive line's reputation of having a nasty streak)
 
Jeff Fisher: He definitely fits in.  He finishes plays.  He's downfield if you watch him closely.  He's really down at the linebacker level. He has moved.  He has pulled.  He's done all of those things.  Yeah, we feel like this is a chance to be even better than we were. 
 
(on if there is enough depth on the team at guard)
 
Jeff Fisher:  Yes, with Leroy [Harris] and Eugene [Amano] and Kevin [Mawae] back and even Daniel [Loper].  Danny played well when he came in.  We got flexibility there.  Danny can play tackle and guard.  We have a very good solid situation on the offensive line.
 
(on Scott's style of play)
 
Jeff Fisher:  He is as athletic as Jacob [Bell] was from a pulling standpoint and efficiency as we say on the next level.  I'd say he is probably better suited to handle the big guys up front.  If Jacob had any issues or deficiencies, and it is hard to find a weakness in Jacob's game, but that is where typically he would struggle – against the big guys.  Jake didn't have a problem.
 
(on how much Mike Munchak was a selling point)
 
Jake Scott: It is a big part.  It is always great to play for a good coach.  The guys I have talked to, I have talked to Kevin Mawae, and the guys that played for him love playing for him.  He has a great reputation as an offensive line coach.  Just watching them play -- we have a lot of common opponents -- so you get to see the Titans play on film a lot.  They always play good every year.  It is a good group.  And his achievements too.  You get to play for a guy who is a Hall of Famer.  He played, I believe, 15 years, so you get to draw on all that experience that he has.
 
(on the signing)
 
Mike Reinfeldt:* We got a guy that is a good football player.  He has lined up and played football in the league for the last four years and started on a championship team.  I think that is the important thing.
 
(on the attractiveness of Scott's durability starting 55 straight games)
 
Mike Reinfeldt: *I think that is really attractive.  He is consistent and to be able to do that and stay healthy, that is a tough thing to do.
 
(on whether he is a better run or pass blocker)
 
Jake Scott:* I don't know.  I would like to think that I'm equally good at both.  Most linemen like to run the ball.  You like to grind on D-linemen and wear people down, so I guess I would favor that a little bit from a what-I-like-to-do standpoint.
 
(on his plan for the offseason and where he is going to be)
 
Jake Scott: *In the past it has been Indianapolis that is just because I am there for the offseason workouts, aside from a few weeks here and there where I go on vacation or go back  to Idaho to visit family.  I plan on doing the same thing here.  I haven't decided where as far as exact location here in Nashville, but I plan on living right here and I will be here probably at least 10 months out of the year.
 
(on being in the same division and playing Indianapolis twice a year)
 
Jake Scott: That wasn't really a factor to me deciding to go here, but it is not a bad thing.  It is a good competitive division with not just Indy, but Jacksonville and Houston too.  There are some good rivalries there and it will be a lot of fun to play in this division still.
 
(on his impressions of Vince Young)
 
Jake Scott:* He is a special guy.  He does a lot of things.  He is a very exciting player to watch and he is a playmaker and he is a winner.  He just wins.  If you watch him even in college, he just finds a way to win and he leads his team.  That is a good thing.
 
(on his contract negotiations and what narrowed down the deal)
 
Jake Scott: * I think it was just time.  I wasn't really involved personally too close in the negotiations.  It is my first time as a free agent but I guess that is probably just part of the business end of the deal.