NASHVILLE – Before the Titans headed to Minnesota to kick off this week's joint practices against the Vikings, the team spent part of their Tuesday at the 2023 Kickoff Luncheon presented by Pinnacle.
The event raised roughly $400,000 for the Titans Foundation.
Approximately 550 people were in attendance at the Grand Hyatt Nashville. The event was attended by the entire team, and other members of the organization.
Coach Mike Vrabel, General Manager Ran Carthon and President and CEO Burke Nihill all spoke at the luncheon.
Vrabel said he thought it was important for the team to be on hand. He quizzed members of the team's rookie class while on stage after the squad entered the building.
"The Titans charitable foundation does make an impact through Middle Tennessee, and I think that it is important if we are going to support our players, I think it is great they support our foundation," Vrabel said. "I've also asked our organization and our coaches and our players to support things that our players do outside of that.
"I think it is a great win-win opportunity for everybody. For our community, for our players, to support our team's charity but also for us to be able to support these things our players do outside of football."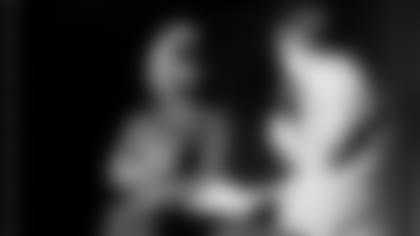 The Titans Foundation is a 501 (c)(3) non-profit that serves the Nashville and greater Tennessee communities. It also powers ONE Community, the Titans' multi-faceted philanthropic platform that reaches many of Nashville's most underrepresented and marginalized communities with a focus on three areas – Opportunity, Neighborhoods and Education. ONE Community strives to create generational change one person, one family, and one community at a time. 
"The Kickoff Luncheon is a perfect way to bring together our fans, players and staff as we celebrate the beginning of a promising season ahead," said Johari Matthews, Vice President and Executive Director of the Titans Foundation. "It also benefits the Titans Foundation, and as we continue to seek out ways to serve our community, attendees of this event will have played a direct role in making that work possible."