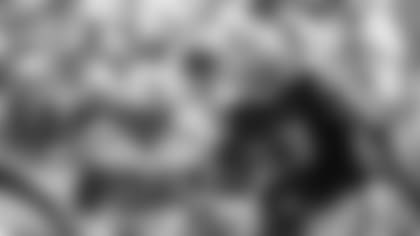 ](http://www.nflauction.nfl.com/cgi-bin/ncommerce3/ProductDisplay?prrfnbr=132886721&prmenbr=65664914&aunbr=133233431)
Johnson rushed for 142 yards and two touchdowns in Tennessee's 38-13 season-opening victory vs. Oakland at LP Field.
NASHVILLE, Tenn. --** The Tennessee Titans are now offering a "
2010 Season Kickoff Package
" featuring a Chris Johnson signed authentic game ball from the team's 38-13 opening game victory over the
Oakland Raiders
.
The elements of the package include game ball signed by Chris Johnson and Head Coach Jeff Fisher, Gameday magazine with Johnson on the cover and a "Code Blue" commemorative tee-shirt.
Johnson ran for 142 yards and two touchdowns to lead the Titans!  The Titans played well in all three phases of the game as the defense registered four sacks and one interception!
This package includes a game ball from the Titans opening game victory signed by Johnson, the 2009 NFL Offensive Player of the Year.  The ball has a "NFL Kickoff 2010" and the word "Titans" stamped on the ball, showing the authenticity.  Johnson's 142 yards kept alive his streak of consecutive 100-yard games, which is now at 12 after he ended the 2009 season with 100 yards in the final 11 games of the year.
The NFL mark for most consecutive 100-yard games rushing is 14, held by Barry Sanders.  Also included in this package is a Titans Gameday magazine featuring Johnson on the cover and a "Titans Code Blue" tee shirt, which was given to all 68,000 fans entering LP Field on Sunday!
Auction closes at 10 pm CDT on Sept. 21, 2010 and proceeds benefit the Tennessee Titans Foundation.