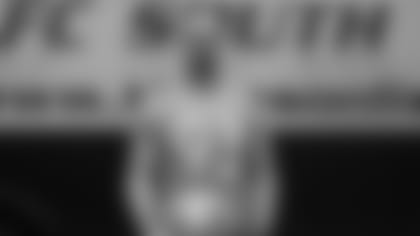 CHRISTIANA, TN, April 13, 2009 —** Defensive end Kyle Vanden Bosch unveiled the team's throwback Houston Oilers jersey during the team's first day of Titans Caravan XII on Monday.
The Titans will wear the jersey, modeled after the 1960 Oilers, three times during the 2009 season, which celebrates the 50-year anniversary of the American Football League co-founded by Titans owner K.S. "Bud" Adams, Jr.
The jersey, which features the traditional Oilers Columbia blue with a red outline over the white name and numbers, will first be worn at the Hall of Fame Game vs. Buffalo Aug. 9 in Canton, Ohio. The AFL's 50-year anniversary logo is also featured on the front of the jersey.
"I think they look really cool. It's exciting to kind of embrace the organization's history by wearing the throwback jerseys," Vanden Bosch said. "I think it's important as a current player to recognize where the league has come from and pay tribute to the players that laid the groundwork for where the game is today. Anytime you can wear a throwback jersey, it adds a little excitement in the locker room."
The jersey will be worn twice during the regular season in "Legacy Games" — once at home and once on the road — against two of the team's four AFL opponents (home vs. Bills, Chargers, road vs. Patriots, Jets). Those games will be announced by the NFL later this spring.