**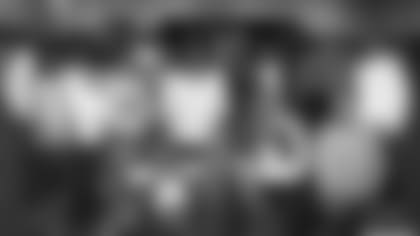 Titans linebacker David Thornton and several of his family members provided turkey dinners to 100 families from Nashville's Martha O'Bryan Center.
NASHVILLE, Tenn. --** David Thornton continued his Thanksgiving tradition this year by providing a turkey dinner with all the trimmings to 100 families from Nashville's Martha O'Bryan Center.
This marked the fifth year that Thornton provided these holiday dinners and this year. Fifteen members of his family traveled from Goldsboro, N.C. to help him with the event and then enjoy the holiday with the Titans linebacker.
His parents, the Rev. Arnold and Janice Thornton, and their extended family members joined eight of Thornton's teammates and youth volunteers from Martha O'Bryan in distributing meals to the appreciative guests. 
"Tonight is a very special evening," said Thornton at the event. "Having an opportunity to serve the community always means a lot. To make it more special tonight, 15 members of my family drove in from North Carolina to help serve and give back as well. We always believe it's a blessing to be a blessing to others."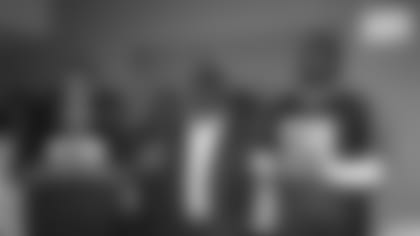 Patrick Bailey, Rennie Curran, Vincent Fuller, Pete Itersagen, Gerald McGrath, Myron Rolle, Tim Shaw and Patrick Trahan also helped spread the spirit of Thanksgiving to Thornton's guests.
Rev. Thornton offered a very moving prayer for the families receiving the meals and Lisa Wade, Thornton's cousin, did a magnificent job singing one of her favorite hymns, "Stand" prior to distributing the dinners.
Thornton was the Titans Walter Payton Community Man of the Year award winner in 2008, an award he also won as a member of the Indianapolis Colts, for his dedication to helping those less fortunate with events such as this one.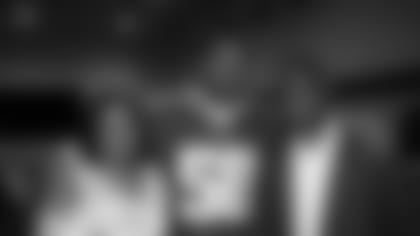 David with his parents, Janice and Rev. Arnold Thornton.
Martha O'Bryan Center, a Christian outreach ministry located in the James A. Cayce Homes, supports and empowers individuals and families in need living in the East Nashville and surrounding community to attain greater levels of well-being and self-reliance, and provides opportunities for people to respond to God's love by giving through service.  For more information on the Martha O'Bryan Center, please visit
www.marthaobryan.org
.