NASHVILLE, TN, Sept. 24, 2008 – Titans linebacker David Thornton, like all NFL players, only has one day off during the week and chose to spend it at West End Middle School. Thornton took part in Titans Tuesdays; a weekly program where players make community visits each Tuesday throughout the season. Thornton spoke to students, encouraging them to work hard in school, make good choices, eat well and stay physically active. The students were asked to rival the fans at LP Field as they welcomed Thornton into the auditorium and continued to interact with him throughout the presentation.

A regular in the community and well respected by his peers, Thornton was a finalist for the 2007 Community Man of the Year Award and was selected by his teammates as the Ed Block Courage Award recipient.

"Mr. Thornton inspired many of our students at West End Middle School and he was a phenomenal speaker," said Gregory Hutchings, principal. "Mr. Thornton encouraged our students to focus on academics and physical fitness. It was an honor and privilege to have one of the 'best' Titans at West End Middle School!"
Thornton received cheers from the audience when he revealed that his favorite subject in school was math. He stressed the importance of all of the subjects in school and explained how education opens many doors of opportunity. Thornton explained that their age, if he didn't do well in the classroom, he was not allowed to participate in sports and encouraged these students to keep that same perspective. "You have to come to school prepared; you can't just show up," Thornton said. "Just as I can't go to practice without my helmet, you can't go to class unprepared." 

---

CLICK HERE for more pictures from this edition of Titans Tuesdays!

---
This advice was based on Thornton's personal success in his academic years.  In addition to playing football, he was also the student body president, the school's National Honor Society president and the drum major of the marching band, all while maintaining a 3.9 grade-point average. 

The seven-year NFL veteran also discussed how important it is to keep a positive attitude in school, sports and life. Thornton explained that when the Titans fall short in a game, they have to stay motivated and go back to the classroom to make corrections. He suggested the students do the same thing.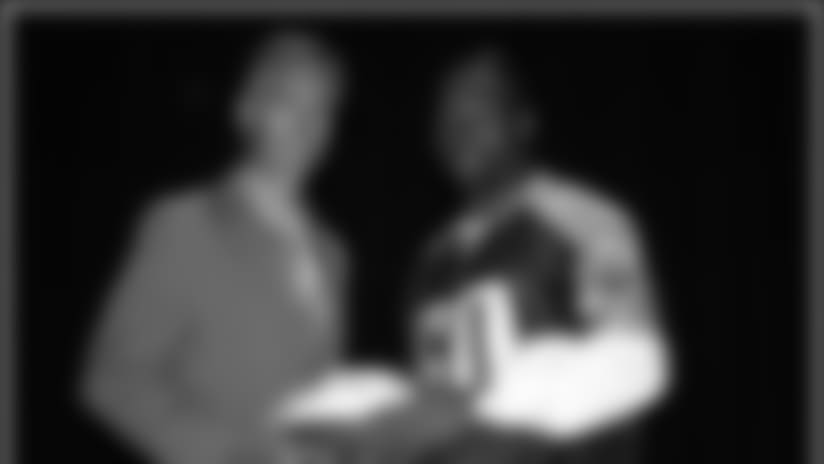 Thornton poses with Metro Nashville Public Schools Interim Director of Schools Chris M. Henson.

"If you don't do well on a test, go back, ask questions and ask, 'how can I do better next time'?" said Thornton.
In order to maintain a positive attitude, Thornton encouraged the students to stay away from bad influences. In addition to academics, he spoke about the importance of staying healthy -- to stay away from drugs, alcohol, and smoking because they're not going to help achieve anything in life. Instead, he encouraged the kids to put the right foods and fluids, like water and milk, in their bodies and to exercise at least 60 minutes per day. "It was very evident that David believes how important both good nutrition and exercise are to the overall health of young people and adults alike." said Jeff Keith, Assistant Principal at West End Middle.
 
While Thornton was a very active teen as a football, baseball, and basketball player, today six out of 10 children ages nine to 13 don't participate in any kind of organized sports or physical activity outside of school.  Only one in four kids get 30 minutes of physical activity each day. 

To address these issues, the NFL has partnered with the American Heart Association to initiate the WHAT MOVES U/Play 60 program. The program encourages youth to get an hour of physical activity each day in an effort to fight childhood obesity and is expected to reach more than five million kids and teens. This season, as a part of the What Moves U program, there will be a six-week challenge at select schools the Titans visit for students to become more physically active. One dedicated student from each participating school will be chosen to attend a press conference with Coach Jeff Fisher and tour the Titans facility at the end of the season.
"Our students are really excited about the program, What Moves U, and are looking forward to the six week challenge," said Principal Hutchings.
To close, Thornton talked about the importance of reaching out to help others. He stated he has received a lot of help along the way and that he believes what goes around, comes around. He told the students that everyone can help someone out and make a difference. Thornton practices what he preaches and has been dedicated to giving back throughout his entire career. Thornton was named a 2007 Titans Community All-Star for his numerous community efforts, including providing Thanksgiving meals to families, appearing on the Titans Caravan, and providing game tickets to needy children through the "50's Faithful" program.
"We could use more athletes and celebrities like David Thornton encouraging students to perform to their capabilities on a daily basis because their education and health are their two top priorities at this stage of their lives." said Assistant Principal Keith.
In addition to the Titans' commitment to promoting fitness, nutrition, and the physical activity of kids through the What Moves U program, the team is also working with The National Dairy Council to promote healthy lifestyles. As part of a five-year program and $250 million commitment, the NDC and NFL will encourage students to adopt healthy behaviors, make nutritious food choices, and actively inspire positive change among their peers.