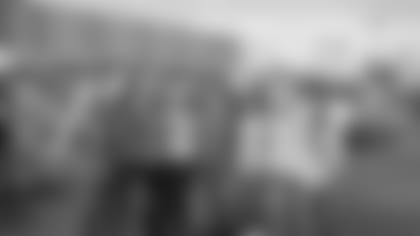 Titans Cheerleaders take part in country music star Tracy Lawrence's fifth annual "Mission Possible" Turkey Fry to benefit the Nashville Rescue Mission.
NASHVILLE, Tenn. --** Titans cheerleaders served up smiles, signed autographs and posed for pictures Tuesday in joining the effort at country music star Tracy Lawrence's fifth annual "Mission Possible" Turkey Fry to benefit the Nashville Rescue Mission.

The event collects donated turkeys that volunteers prepare in deep fryers for meals that will feed Nashville's hungry. It has raised more than $100,000 since its inception.

"It's really been amazing to watch this grow over the last few years and see the outpouring of support from the community and the corporate sponsorships," Lawrence said. "I think it drives such a great awareness to the Mission and all the work they do and lift a lot of the spirits up of the people that are here. I'm really pleased to have been a part of it for so long."

Lawrence thanked other stars and musicians from the road, the volunteers and the cheerleaders for helping out with the event. He said it epitomizes his favorite part of Thanksgiving: "Just giving thanks and praise for all the blessings in life. It's all about family and friendship."

The cheerleaders will return to the Mission Wednesday to serve a Thanksgiving meal to people in need of the Mission's help.

"We're here to bring holiday cheer," cheerleader Brooke said. "We serve Thanksgiving meals to all the people that are in the Nashville Rescue Mission program. It's a great day for them because many of them get to graduate out of the program and they get to have a real Thanksgiving meal."

The event helps people like Darrell, who came to the Mission for help after he lost his job a couple of weeks ago. Darrell has been working through temporary services, trying to get another job.

"The Rescue Mission offers a lot of help for everybody," Darrell said.

Lawrence's nephew Austin Buttram, 16, of Murfreesboro helped for the second straight year.

"It feels good to help people that really need it," Buttram said. "They are going to get to have Thanksgiving just like we are."

Mick Blankenship, 30, of Mt. Juliet received an invitation to help from members of Lawrence's band. It was the first time Blankenship had cooked turkeys in a deep fryer. He said he enjoyed the learning experience and opportunity to help.

Lawrence, on the other hand, is experienced at frying turkeys. He said he's been cooking them that way for years.

"The biggest secret is not letting the grease get too hot," Lawrence said, adding that it's also important that the turkey temperatures reach 160 to 165 degrees Fahrenheit.

"I never expected this thing to take off like it has, but I think everybody enjoys gathering up," Lawrence said. "There's a lot of fellowship here, and it's a great day for folks to come out and help and give back to the community. I think people really enjoy it."

Brooke and teammate Jessi said the Titans cheerleaders certainly do.

"The Titans cheerleaders come out here every year to support this event," Jessi said. "We love being here, seeing the fans, and we love giving back to the community on Thanksgiving."