Embassy Suites Hotel & Conference Center, Murfreesboro 11:00 a.m. – 1:00 p.m.
**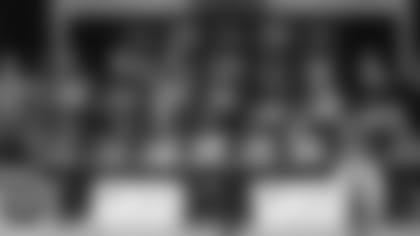 Last year's winners of Tennessee Titans Mr. Football Awards. The 2009 winners will be honored Nov. 30.
NASHVILLE, Tenn. –** The Tennessee Titans Mr. Football Awards will be presented to the top 10 backs and linemen in five classifications of the Tennessee Secondary School Athletic Association on Monday, Nov. 30, 2009, at the Embassy Suites Hotel & Conference Center in Murfreesboro.  For the eighth consecutive year, the top kicker in the state will be recognized with a Mr. Football Award.  There are three finalists in this category, regardless of their school's classification.  This event is supported financially by the Tennessee Titans Foundation.
"High school football in Tennessee enjoys a great tradition throughout the state and we are pleased to join the TSSAA for the third consecutive year in saluting these fine young men at the Tennessee Titans Mr. Football Awards," said Adams. "The young men that are recognized with these awards are truly the best of the best! They are selected not only for their football skills, but for their strong character and academic achievements and we're honored to join the TSSAA in saluting them!"
A committee of statewide sports writers selected winners based on performance in the 2009 regular season.  Academics and character were also taken into consideration.  High school head coaches and members of the media nominated the finalists.  
"We're very thankful to Mr. Adams and the Tennessee Titans for their continued commitment to high school athletics," stated Bernard Childress, Executive Director of the TSSAA.
"We are obviously excited and appreciative about being involved with the Tennessee Titans.  They have helped make the recognition of the 33 student-athletes, their families, and schools possible," added Childress.
This is the twenty-fifth year that the Mr. Football Awards have been presented to Tennessee's best high school football players.  Plaques will be presented to 22 other finalists.
Approximately 600 people, including the honorees, their families, coaches, school administrators and members of the media from all parts of the state, are expected to attend the 2009 luncheon.
Mike Keith, play-by-play voice of the Tennessee Titans, will emcee the awards presentations. Live videostream of the awards will be provided for free by the Tennessee High School Sports Network (THSSN).  Those interested can watch the awards by going to www.tssaa.org.
2009 Tennessee Titans Mr. Football Finalists
CLASS A LINEMAN
Josh Carroll, Adamsville
Ronnie Fair, Union City
Jiajuan Fennell, South Pittsburg
CLASS AA LINEMAN
O.C. Brown, Manassas
Tyler Robinson, Alcoa
James Stone, Maplewood
CLASS AAA LINEMAN
Chris Mayes, Riverdale
Tim McAdoo, Oakland
Jacques Smith, Ooltewah
DII-A LINEMAN
Walker McWherter, USJ
Steven Stafford, ECS
Derek Vaughn, Davidson Academy
DII-AA LINEMAN
Jonathan Brown, CBHS
Sam Cooper, Ensworth
Harrison Martin, MUS
CLASS A BACK
Kevin Ashabraner, Jo Byrns
Kennon Holder, Huntingdon
Terrell Robinson, South Pittsburg
CLASS AA BACK
Bryson Crowder, Liberty
Jaron Toney, Alcoa
Bo Wallace, Giles County
CLASS AAA BACK
Reed Gurchiek, Mt. Juliet
Anthony Hayes, White Station
Darian Stone, Clinton
DII-A BACK
Davis Childers, ECS
Jake Overbey, USJ
Doug Page, FRA
DII-AA BACK
Barry Brunetti, MUS
Orleans Darkwa, Ensworth
Jacob Huesman, Baylor
KICKER OF THE YEAR
Andrew Fletcher, MBA
Christian Kauffman, MUS
Nick Pollard, Father Ryan