**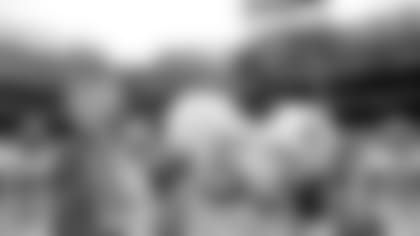 Veteran LB Keith Bulluck witnessed the Titans dig out of a 1-4 start in 2002 and an 0-5 beginning in 2006.
NASHVILLE, Tenn. --** Tennessee Titans aren't panicking. One more loss, they just might.
The team that lost only three games in the 2008 regular season already has matched that in 2009. The Titans are saying all the right things about not pointing fingers, tuning out critics and the need to dig out of this 0-3 hole.
The AFC team that earned home-field advantage throughout the playoffs? Not talking about the postseason right now, not with all three losses to AFC teams and the defending AFC South champs sitting on the bottom as one of six winless teams left in the NFL.
"It's not the division, it's not playoffs,'' coach Jeff Fisher said Monday. "It's just win a game, win a game.''
The Titans have blown second-half leads in each game. Fisher is taking the blame on the latest after going with rookies at returner. That cost him two turnovers and 14 points in Sunday's 24-17 loss to the New York Jets. Fisher said it's his responsibility to get someone that can make those plays, though he still thinks Ryan Mouton will be a good player.
Now the Titans will be without defensive back Vincent Fuller for up to six weeks with a broken right forearm and All-Pro cornerback Cortland Finnegan hurt a hamstring. Fisher did not give an estimate on Finnegan's status but the coach said the Titans are looking at their options for help both at returner and at cornerback.
This wasn't expected from a team that went an NFL-best 13-3 in 2008 with 20 starters back. Even linebacker Keith Bulluck said after the Jets' loss he wouldn't have believed anyone forecasting such a woeful start.
"But we are 0-3,'' he said.
Everyone has had a hand. Kerry Collins fumbled to ruin a drive in Week 2, then he was intercepted twice and finished the loss to the Jets with 13 straight incompletions. Nate Washington, the top free agent signee, dropped at least two passes. Justin Gage and rookie Kenny Britt also missed catches as Fisher counted five drops in the second half.
The defense that couldn't get to Ben Roethlisberger in the opening loss at Pittsburgh or stop Houston a week ago rebounded by holding the Jets without a first down and to minus-3 yards in the second quarter.
Collins said he will do everything in his power to keep the team together.
"That's the only thing we can do. It's certainly frustrating, I think everybody's frustrated, but we have to come back to work. We can't be fazed by it. We have to come back and try to get a win next week. That's the situation we're in, and we have to deal with that and move on,'' Collins said.
Collins might get back tight end Bo Scaife, who hurt his left knee in the opener. Scaife was the team's leading receiver in 2008.
Plus, this team has plenty of players who survived an 0-5 start in 2006 before reeling off eight wins over the next 10 games. That squad missed the playoffs by losing the final game. Center Kevin Mawae said the veterans need to show the younger players how to dig out of this hole.
"We've done it before, and we can do it again,'' Mawae said.
Defensive tackle Tony Brown, who was signed by Tennessee after the fourth loss to open 2006, said the Titans are going to remain calm.
"We are grown men. Everybody just has to stay focused,'' said Brown, who forced a fumble and had a sack against the Jets. "We are going to get it corrected.
The Titans visit Jacksonville (1-2) on Sunday before hosting Indianapolis on Oct. 11. Then there's their fourth road trip in six games to New England before their bye.
Bulluck expects people to write off the Titans now despite two straight playoff berths.
"We don't need to spend our time worrying about the stories in the newspapers. We need to worry about ourselves. At a time like this, the team needs to get tighter,'' he said.