Three Additional Finalists were recognized as Tennessee's Top Volunteers
**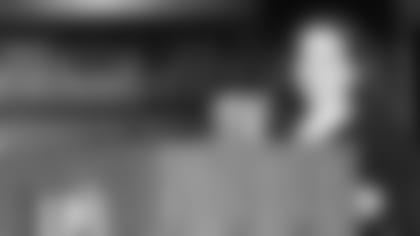 Tasha French is the winner of the 2009 Tennessee Titans Community Quarterback Award.
NASHVILLE, Tenn. –
The Tennessee Titans recognized
Tasha French of Nashville
,
Tennessee as the 2009 Titans Community Quarterback Award Winner
* during a special recognition luncheon hosted by the Titans at LP Field West Club on Thursday.  French earned a $10,000 grant from Titans owner K.S. "Bud" Adams, Jr. and the Tennessee Titans Foundation for her non-profit organization, The Contributor.  French is the founder and Executive Director of *The Contributor
, Nashville's street newspaper launched in the winter of 2007.
"This award is such an honor," said French. "It really is a huge support from the Nashville community and from the Tennessee Titans for this project and for our vendors. The money is really going to help us become more sustainable over the next few years and help us continue to do this project in a more self sufficient way."
French was one of four volunteers recognized today for their work with non-profit organizations. These volunteers were chosen based on their leadership and dedication to bettering their hometown communities.  The Titans Community Quarterback Award program is a statewide contest that recognizes outstanding volunteers, ages 13 and up, of non-profit organizations in Tennessee.  The winners were awarded with grants from the Tennessee Titans Foundation that totaled $17,500, bringing the total grants awarded since the program started in 2000 to $215,500.
The following quotations are from French's nomination submitted by Andrew Krinks, Copy Editor and Board Member of The Contributor:
"Before Tasha came around, Nashville's average citizen knew little to nothing about homelessness in our city… Many Nashvillians now see homeless individuals not as lazy and dirty but as approachable, friendly, and even driven to rise out of their circumstances. These epiphanies- taking place in persons all around our city- are due in no small part to the diligent work, commitment, and leadership of Tasha French.  When Tasha helps those who are poor and homeless make a better life for themselves, she isn't just helping them; she's helping the entire community. Because the problem of homelessness is not just the problem of those who suffer it, it is the problem of every neighbor and citizen of this city."
 "Each year we learn of many great volunteers doing magnificent work throughout the state and this year's Community Quarterback Award group continues to amaze me," said Titans Owner K.S. "Bud" Adams, Jr.   "Tasha French continues the tradition of statewide winners who give so much to non-profit organizations in Tennessee."
"Tasha is truly an inspiration to us all," continued Adams.  "Community involvement is very important to me and the entire Titans organization.  We are pleased to present this grant to The Contributor in recognition of Tasha's dedication.  We salute not only today's four grant winners but everyone that was nominated for this year's Titans Community Quarterback Award!  I say this every year, and it continues to be true – this program shows that Tennessee truly is the Volunteer State."
There was a three way tie for second place among Monk Baird from Nashville Area Habitat for Humanity, Renee Behrman-Greiman from Big Brothers Big Sisters of Middle Tennessee and Emmit Martin from Cancer Awareness Project. Each of these three finalists received a grant of $2,500 for finishing tied in the runner-up position.
Below is a brief summary of the finalists:
Tasha French, age 32, Nashville - The Contributor
Tasha French is the volunteer Executive Director of The Contributor, Nashville's street newspaper. In the fall of 2007, she brought together the group of outreach workers, homeless and formerly homeless writers and artists who launched the newspaper beginning with their first issue in the winter of 2007 and continuing with their 21st issue published this month. Tasha solicits, collects and creates news content, edits copy and designs each page of the monthly issue for press. Her efforts in creating and sustaining the paper for the past two years have created jobs and income for many who might otherwise have no way to make a living.
Monk Baird, age 77- Habitat for Humanity - Nashville
Monk Baird began working with Nashville Area Habitat for Humanity in 1998 when the first neighborhood was being developed. Three neighborhoods and eleven years later, Baird now serves as a Supervisor on Site. Baird also created the Faith Relations Committee which she still serves today. Her presence on the sites of home builds ensures that everyone works hard but has a fun time as well. She has been instrumental in leading the construction effort for 187 Habitat homes in Davidson and Dickson counties.
Renee Behrman-Greiman, age 36- Big Brothers Big Sisters Middle Tenn - Franklin
Renee Behrman-Greiman has volunteered with Big Brothers Big Sisters of Middle Tennessee for thirteen years. She has served as a mentor and tireless advocate and fundraiser for the non-profit organization. Behrman-Greiman also served on the Marketing Committee for many years and finally joined the Board in 2009. She is invaluable not only to the organization but also to the child she mentors, who describes her as a "best friend and the example of the live [she] wants to live."
Emmit Martin, 38, Cancer Awareness Project
Emmit Martin founded Cancer Awareness Project in June 2008 after his success as a bone marrow donor for an anonymous cancer patient. Martin organized the first annual Music City Half Marathon and Nashville Bone Marrow Drive which collected more than two hundred new registrants on the donor list. Cancer Awareness Project seeks to promote awareness about the prevention, detection, and bone marrow donation process. Martin is a shining example of the dedication, leadership, and selflessness needed to make a difference in the lives of others.
Previous Titans Community Quarterback Award Winners are:
2008 - Wayne Howell, Franktown Open Hearts, Franklin
2007 - Bill Boss, Hands-On Science Center, Tullahoma
2006 - Mary McEwen, Bethlehem Center, Nashville
2005 - Sondra Clark, Christ Presbyterian Academy, Nashville
2004 - Mary Cunningham, Meals on Wheels, Kingsport
2003 - Wayne Watson, Colonial Heights United Methodist Church, Kingsport
2002 - Lynn Dunwoody, Auxiliary Probation Service, Memphis
2001 - Anna Sternheimer, Nashville Family Shelter, Nashville
2000 - Georgeanna Chapman, Martha O'Bryan Center, Nashville
In addition, the Tennessee Titans recognized their charity partners that held game day drives during the 2009 season.  Each non-profit received a one-of-a-kind photo plaque in recognition of their efforts.  
The 2009 Gameday Charity Drive Partners that were honored were:
Soles4Souls Shoe Drive – August 15th vs Buccaneers
For the third consecutive year, Titans fans brought "gently worn" shoes to the game to benefit Soles4Souls.  Their research estimates that Americans have approximately 1.5 billion pairs of unworn shoes in their closet and their mission is to secure shoes for those in need across the globe.  Titans fans were very supportive of this drive.
YWCA Undergarment Drive – September 3rd vs Packers
Fans showed immense support for the YWCA Undergarment Drive.  This marked the second year that the team partnered with the YWCA and it was a huge success. Undergarments for women and children were collected for the YWCA Weaver Domestic Violence Shelter.
LP PENCIL Box Drive – Sept. 20th vs Texans
For the fourth year, LP Building Products joined forces with the Titans and Pencil Foundation to collect school supplies for needy Nashville school students.  Fans once again showed an overwhelming amount of support to the LP PENCIL Box Program.
AT&T Cell Phone Drive – November 1st vs Jaguars
AT&T teamed with the Titans for the sixth annual cell phone drive, which benefited the "Cell Phones for Soldiers" program, a joint initiative to help troops stationed overseas call their loved ones back home.  Fans were asked to bring recycled cell phones and parts to the game to be recycled for cash to donate to the program.
Second Harvest Food Drive – November 15th vs Bills
Second Harvest Food Bank of Middle Tennessee benefited from our great fans for the tenth consecutive year when our fans brought non-perishable food items to our game last fall.  The ten-year total for the drive is nearly 225,000 lbs of food to help combat hunger facing thousands of our neighbors each year.
Titans Foundation Coat Drive – November 29th vs Cardinals
Fans showed tremendous support once again and more than 23,000 coats have been donated to more than 30 different organizations during the 11-year history of this drive. 
U.S. Marine Corps Reserve Toys for Tots Drive – December 13th vs Rams
Titans fans have now donated approximately 130,000 toys during the 11 years of the team's annual Marine Corps Toys for Tots campaign.  The Toys for Tots campaign is the longest-running gameday campaign for the team and is a national program for the U.S. Marine Corps Reserve.
Nurses for Newborns Baby Shower – December 20th vs Dolphins
The fifth annual drive for Nurses for Newborns was once again billed as "Nashville's Largest Baby Shower" with Titans fans donating much-needed baby items to be distributed to disadvantaged families with newborns across Middle Tennessee.
The Titans are proud to be a philanthropic leader in the community and to partner with such worthwhile organizations in order to make our community a better place to live.