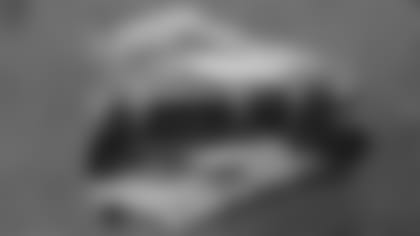 NASHVILLE, Tenn. — Titans rookie receiver Tajae Sharpe grew up in New Jersey.
He went to college at the University of Massachusetts.
But Sharpe, the team's fifth-round pick, is well aware of the tragic events stemming from East Tennessee wildfires.  And on Sunday, he wants to do his part to show all those affected he's thinking about them as part of the "My Cause, My Cleats" campaign.
Sharpe will wear specially designed cleats during Sunday's game against the Broncos. He said he plans to auction the cleats off to raise money for those impacted.
"The idea I had is to bring awareness to help support any victims, and any families that were affected by the wildfires,'' Sharpe said. "I kind of feel like being a professional athlete we get so caught up on doing our job and performing well on the field that we kind of lose track on what is really important and that is the real world. There's a lot of terrible things going on where people are hurting.
"With the platform we are on as professional athletes, there's a lot of people who look up to us in a positive way. If we can bring attention to a negative situation and bring awareness to that and kind of help out any way we can, that's a good thing."
Two juveniles were charged this week with aggravated arson in connection with the wildfires that ravaged two East Tennessee resort towns last week, killing 14 people and leaving at least 150 others injured. More than 2,400 properties were damaged or destroyed.
The fire roared through Great Smoky Mountains National Park before spreading into Gatlinburg and Pigeon Forge.
The NFL is allowing players a chance to express themselves in the "My Cause, My Cleats" campaign. Players from 30 NFL teams wore custom cleats to display causes important to them last week, and this week the Titans will be allowed to wear cleats for Sunday's game against the Broncos.
"It is right in our backyard, right here in Tennessee,'' Sharpe said of the devastation. "We have so many great fans throughout the state who support us, throughout the season and the offseason. So whenever we can show support for them, I think it is important. And I think it's good to let them they are being thought of."
Sharpe, who has started eight of the team's 12 games and has 36 catches for 464 yards and two touchdowns on the season, said he plans to wear the cleats in pregame and during the game.
Sharpe said on Thursday the cleats are still being designed by a designer he was put in touch with through his sports agency. The designer previously did work on cleats for former NFL running back Marshawn Lynch, Sharpe said. The cleats are expected to arrive in town the next day or so, he said.
"I don't know exactly what they are going to look like, but we came up with some great ideas to put on the cleats," Sharpe said. "As an artist, I want him to do what he wants to make them stand out. I don't think I am going to have flames on the cleats. I think after all the victims, and those who lost homes, that wouldn't be a good idea.
"The idea around it is to bring awareness to all those affected, and to let them know they are being thought of."