**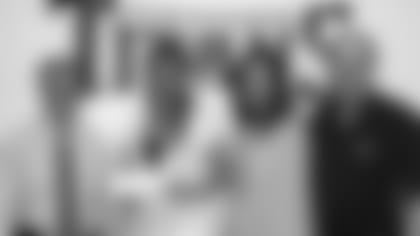 (L-R) Steve Underwood, Rachel Martinez, Tresa Halbrooks, Bob Hyde
NASHVILLE, Tenn -** On Wednesday, April 7th, Fannie Battle Day Home was presented a $5,000 Youth Fitness Zone Grant on behalf of the Tennessee Titans Foundation, owner K.S. "Bud" Adams, Jr. and NFL Charities. Fannie Battle Day Home for Children is located near LP Field and is the second oldest childcare center in the United States.
Fannie Battle Day Home's mission is to continue the tradition established in 1891 by their founder, Miss Fannie Battle: to provide affordably high-quality child care, for at-risk children in a nurturing environment while empowering families to reach their potential. Fannie Battle is licensed by the State of Tennessee receiving the highest 3-Star rating and is also a United Way of Middle Tennessee funded agency. Fannie Battle also participates in the Community Foundation of Middle Tennessee's GivingMatters.
The presentation came as a surprise to Fannie Battle's Development Director, Rachel Martinez, who was summoned to the Titans facility at Baptist Sports Park on Wednesday. The Titans had identified Fannie Battle Day Home to receive the grant months ago and Martinez had reached out to the organization that same morning to solicit an auction item for an upcoming celebrity auction the non-profit is hosting. The Titans received the grant check on Wednesday and asked Martinez to come pick up the "ultimate auction item" at the facility. Upon arrival, Martinez was escorted in to the COO's office, Steve Underwood, for the presentation of the grant.
"We were excited to get the phone call to report to the Titan's training facility but were at a loss of words when we left with a very generous donation of $5,000 from Tennessee Titan's Youth Fitness Zone to Fannie Battle Day Home for Children," said Martinez.
The Youth Fitness Zone Grant, awarded by the Tennessee Titans Foundation, is part of the NFL's commitment to health and fitness. Since its inception, NFL Charities has granted more than $120 million to more than 642 different organizations.
"The funds have been designated to assist with promoting fitness and health to over 90 at-risk children." said Sara Longhini, Executive Director at Fannie Battle. "Promoting fitness and offering healthy activities to our children have always been important to Fannie Battle and this donation will allow us to provide materials, equipment and experiences we would not otherwise be able to afford our children in the current economy. This gift will help us continue providing our children and families the opportunity to be successful in school and life. Thank you Tennessee Titans, call us anytime."
The Tennessee Titans and the NFL are committed to getting our youth healthy and fit through grants such as this and programs like the PLAY 60, where kids are encouraged to get at least sixty minutes of active play per day. For more information about PLAY 60 and how you can get more involved, visit http://www.nflrush.com/.
More About Fannie Battle Day Home
*We are a year-round childcare center open Monday-Friday, 6:30 a.m.-5:30 p.m. The Day Home offers Infant/Toddler, Preschool, Pre-K, and School Age Programs to 82-96 children ages 6 weeks to 10 (12 years during the summer). Fees are set on a sliding scale according to income and parents are required to be working, in school or in a job training program. 90% of our families are classified by the federal government as low income. 56% live in Public Housing and 94% qualify for free or reduced meals. 89% are from single parent homes and 87% are of African American heritage. For more information visit *http://www.fanniebattle.org/