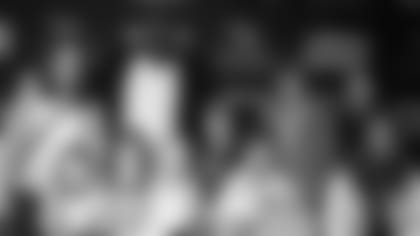 Linebacker Will Witherspoon poses with top student sellers in the One for the Community program.
NASHVILLE, Tenn. –** Local students who participated in the One for the Community Entertainment Book campaign recently received a special tour and visit with Titans linebacker Will Witherspoon at Baptist Sports Park.

One for the Community offers various fundraising projects for area students/schools such as the popular Entertainment Savings Book.  Funds raised through the campaign have gone towards the purchase of textbooks, computer labs, playground equipment, feeding the hungry, cancer research and much more.

The Top 10 Sellers in the middle Tennessee area are Allie Deathridge, Eli Duncan, Jessica Ezell, Erica Fisher, Mary Grace Gower, Jessica Newman, Kim Richard, Robert Webb, Lynleigh Young and  Evan Zirschky.   The students were recently invited to take a behind-the-scenes tour of the Titans practice facility, Baptist Sports Park, as part of their sales incentive program.   They enjoyed a sneak peak of the team facility on January 14th that included a look inside the locker room, weight room and indoor practice bubble, where they practiced running a 50-yard touchdown and performed their best end zone dance.

The tour ended in the auditorium / press conference room where they were surprised to meet and visit with Witherspoon, the veteran linebacker who signed with the team last off-season.

Witherspoon spoke to the top sellers about the importance of leadership, balancing work life and home life and the preparation that goes into each day as an NFL player.  Witherspoon also stressed the importance of staying healthy, eating right and getting exercise.

At the close of the tour, Witherspoon autographed posters for the students and posed for photos.  In addition, the students received a commemorative Chris Johnson  football along with their Titans goodie bags.

The Titans have been partners with the One for the Community program since the franchise moved to Nashville in 1997.  For more information about One for the Community, visit www.entertainment.com.