**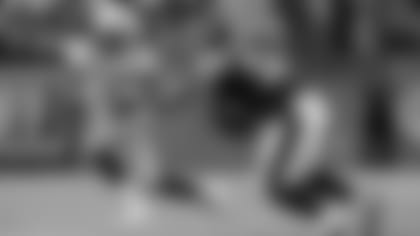 Chris Johnson will look to extend his consecutive 100-yard game rushing streak to 13 when the Titans and Steelers meet Sunday at LP Field.
PITTSBURGH --** Chris Johnson of the Titans has rushed for at least 100 yards 17 times since the start of the 2008 season. Not one of those games came against the
Pittsburgh Steelers
.
The former division rivals met each of the last two seasons, but the 2009 AP NFL Offensive Player of the Year has yet to gain 90 yards against the Steelers.
Or 80 yards. Or 70 yards.
How many yards Johnson gains Sunday at LP Field may determine if the Steelers can get by another week without the suspended Ben Roethlisberger - or, conversely, if they don't have enough offense with No. 3 quarterback Dennis Dixon in charge to keep up with a running back the rest of the league simply can't seem to slow down.
"He's a different, dynamic back. You probably can't even compare him to anybody because he's so different,'' Steelers wide receiver Hines Ward said.
Johnson had 69 yards (2008) and 57 yards (2009) in his two games against Pittsburgh. The Steelers have had the AFC's best rush defense during that span, with only Ray Rice of Baltimore gaining more than 100 yards against them in their last 35 regular season games. Rice ran for 141 yards during a 23-20 Ravens loss on Dec. 27.
Johnson has had 12 consecutive 100-yard games dating to last season, and the Steelers aren't eager to be the victims of No. 13.
"He's definitely putting himself up there to be talked about as the best in the game, if he keeps this up,'' Steelers linebacker James Farrior said.
The Steelers rarely allow any back to gain that kind of yardage. They have yielded only four 100-yard games over the last five seasons-plus, to the Colts' Edgerrin James (124 yards in 2005), the Jaguars' Fred Taylor (147 in 2007), the Jets' Thomas Jones (117 in 2007) and Rice.
"We're going to be extra motivated this week,'' Farrior said.
The Steelers traditionally are tough to run against because 350-pound nose tackle Casey Hampton often takes away runs up the middle - he's made five Pro Bowls by doing so. The linebackers and defensive ends in their 3-4 front are adept at shedding blocks, closing down gaps and getting to the runner.
Hampton (hamstring) is unlikely to play Sunday, but nine-season veteran Chris Hoke has repeatedly played well in a backup role. Even with Hampton out, the Steelers believe they can successfully slow the 5-foot-11, 191-poud Johnson, who has rushed for 125 yards or more in nine of those 12 consecutive 100-yard games. Last season, he became only the sixth NFL running back to gain 2,000 yards in a season, and his 2,509 yards on runs and receptions set a league record.
"We hit him as a team,'' outside linebacker LaMarr Woodley said. "We constantly get to him, and when the running back's taking hits from big guys, they slow down a little bit.''
As linebacker Lawrence Timmons said, the Steelers had better slow down a player that coach Mike Tomlin said might be the best football player in the world right now.
Johnson ran for 112 yards in the first half and 142 overall as the Titans beat Oakland 38-13 on Sunday, despite being held to 3 yards on his first six carries. One run was for 76 yards.
"He's definitely got all of the speed in the world,'' said Timmons, the team's leading tackler during a 15-9 overtime victory over Atlanta. "He's a spectacular runner. He's also a very stout runner, and he's very deceptive. You know he has speed, but when you go out there on the field you really see the speed and it throws you off. He can spread the field in a second.''
Defensive end Aaron Smith said Johnson will get his 4- and 5-yard runs against anybody, but the key is making sure he's doesn't break off any 40- or 50-yarders.
"He's going to get some yardage,'' Smith said. "You just can't let him have those big gainers. When he does break one, everybody's got to run and try to get him on the ground.''
Steelers safety Troy Polamalu injured his left knee in last season's opener against Tennessee, then reinjured it against Cincinnati and wound up missing 11 games. Having him for a full game would help contain Johnson, and Polamalu's coverage skills would put extra pressure on quarterback Vince Young to get the ball downfield if Johnson isn't consistently gaining yardage.
"It's extremely important to be disciplined,'' Polamalu said. "Guys can do a great job all game and, just give him one little crease, one mental lapse, one technique lapse, and he's off 70 yards for a touchdown. People can say he's fast, but he's very slippery.''