NASHVILLE, Tenn. –** Trey Campbell had seen some of the Titans before – on the field on Sundays, and when they stopped by Knockout Wings on Jefferson Street, where he works.
But this encounter was different.
Campbell was working Wednesday when Titans defensive linemen Jurrell Casey and Sylvester Williams, and tight end Phillip Supernaw, surprised him with his season tickets. They walked in during lunch hour in jerseys, handed him an oversized ticket, a signed football and more, and made his day.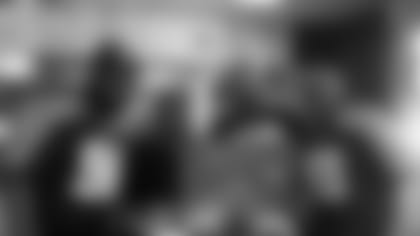 "This is great," Campbell said. "The Titans, that's my team. I've seen Casey before – he comes in quite often and gets wings. A few other guys sneak in, but don't tell coach.
"I am glad they came. I appreciate them, support them, and the community supports the Titans."
Similar scenes played out in offices and homes across the Nashville area on Wednesday. Offensive linemen Ben Jones and Quinton Spain traveled to four different locations, and defensive linemen Karl Klug and Johnathan Cyprien dropped by three different locations to drop off tickets as well.
They posed for pictures, hoisted kids in the air, and slapped high fives.
"Bringing a smile to somebody's face," Cyprien said. "If you have 10 seconds to make somebody happy, then you should definitely do that."
Offensive linemen Dennis Kelly and Tim Lelito also made three stops.
"They are excited to see us," Jones said. "It's a fun day, to see all the fans. And I think it will carry over from where the Predators left off with our fans this year and we are looking forward to it. We don't want to let them down in any way."
Casey has been a part of the season ticket delivery for years.
He said he wouldn't miss it.
"I love it," Casey said. "This is my chance to get out there and show them the love that they come out and show me on Sundays. I try and take care of every opportunity that I get to reach the fans as much as possible, and this is just one of the opportunities."
Titans players surprise season ticket members with their 2017 Titans season tickets. (Staff Photos)